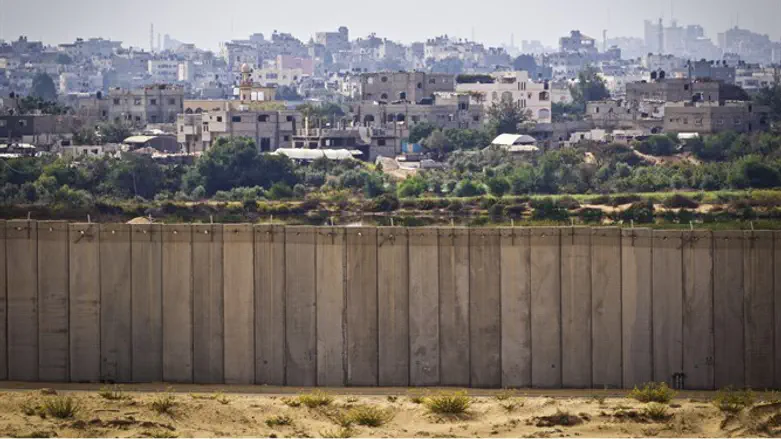 Gaza fence bordering Nativ HaAsara
Flash 90
An incendiary balloon launched from the Gaza Strip landed in a populated area inside of Israeli territory Friday.
The balloon, which had the words "I Love You", was attached to an incendiary device.
After being launched from the Hamas-ruled Gaza Strip, the balloon bomb landed in the Shaar Hanegev Regional Council in the western Negev.
After authorities were notified of the bomb's location, police sappers were dispatched to the scene and neutralized the device.
Thousands of Arab rioters amassed along the Israel-Gaza border Friday, in anticipation of yet another round of clashes with Israeli security forces in an attempt to breach the security fence separating Israel from the Strip.
Earlier on Friday, a Gaza man was captured after he attempted to infiltrate across the border into Israeli territory.
The man was reportedly not armed at the time of his capture.
In recent weeks, Gaza-based terrorists have used 'terror kites' and 'balloon bombs' to drop incendiary and explosive devices into Israeli territory.
Yesterday, a group calling itself the 'kite-builder's unit' vowed to launch 5,000 kites and helium balloons attached to incendiary devices at Israel during today's protests at the Gaza border. The threat was made in honor of Eid al-Fitr, the Muslim holiday which marks the end of the month of Ramadan, which is celebrated today.
Over 25,000 dunams (6,177.6 acres) of Israeli land - mostly forests and agricultural fields - have been scorched by the terror kites in recent months, while the perpetrators have gone unpunished. Extensive damage has been caused to Israeli crops, irrigation systems, wildlife, and forests.