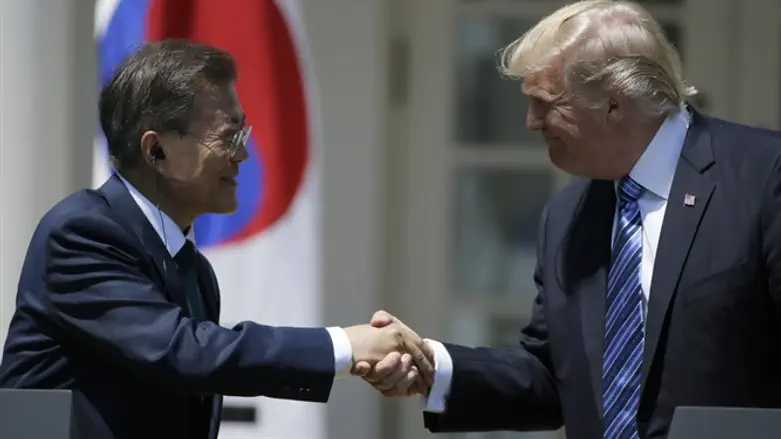 South Korean President Moon Jae-In and Trump
Reuters
The U.S. military has indefinitely postponed major joint exercises with South Korea, an official told AFP on Thursday.
The move follows President Donald Trump's pledge to halt the military drills following his summit with North Korea's Kim Jong Un earlier this week.
The move, a significant break in how the U.S. and South Korean militaries have worked together for decades, came even as Secretary of State Mike Pompeo warned that peace efforts still face risks, and insisted sanctions must be maintained until Pyongyang dismantles its nuclear arsenal.
"Major military exercises have been suspended indefinitely on the Korean peninsula," a senior American official told AFP. Trump on Tuesday had said the U.S. would halt "war games" with its South Korean security ally, but he did not make clear when the freeze would kick in.
U.S. and South Korean forces have been training together for years, and routinely rehearse everything from beach landings to an invasion from the North, or even "decapitation" strikes targeting the North Korean regime.
Pyongyang typically reacts furiously. Following drills last year, the North fired ballistic missiles over Japan, triggering global alarm.
Speaking earlier on Thursday on a regional tour to brief South Korean, Japanese and Chinese officials about the historic summit, Pompeo said Washington remains committed to the "complete, verifiable and irreversible" denuclearization of North Korea.
"We believe that Kim Jong Un understands the urgency... that we must do this quickly," he said of the effort to have North Korea abandon its atomic arsenal.
In Beijing, Pompeo also said China "reaffirmed its commitment" to United Nations sanctions after the foreign ministry suggested earlier this week that the UN Security Council could consider easing the economic punishment against its ally.
"We truly believe that we have a path forward after so many years that can bring peace," Pompeo told Chinese Foreign Minister Wang Yi before talks with President Xi Jinping, according to AFP.
But, he warned, "there are still risks that we won't achieve" that goal, and more work needs to be done.
During the summit this week, Trump and Kim reportedly invited each other to visit the United States and North Korea respectively, and both accepted the invitation.
Following their 45-minute meeting on Tuesday, Trump and Kim sat down for a signing ceremony, putting their signatures to a document both sides described as "historic", without revealing any details.
After the signing, Trump held a press conference at which he said the agreement included a commitment to achieve total denuclearization of Korea, with promises to pursue "vigorous negotiations" to that end.
He later tweeted that "there is no longer a nuclear threat from North Korea."