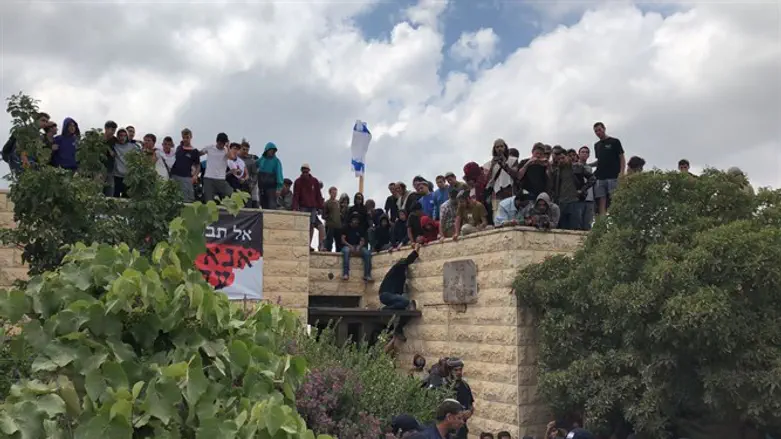 teens on roof of last home
Eliran Aharon
The police announced on Tuesday evening that it had completed the evacuation of the 15 houses in the Nativ Ha'avot neighborhood in Gush Etzion.
The announcement follows the removal of the teenagers who had gathered on the roof of the final house and the evacuation of the final residents.
The police stated that six officers were injured during confrontations with protesters over the course of the day.
Three detainees were arrested on suspicion of assaulting police officers and taken for questioning.
כוחות הפינוי פורצים ללבית בנתיב האבות בו מתבצרים נערים
רביד חכמון/TPS
Some 2,300 police officers took part in the evacuation, and according to the police, they removed more than 500 youths who were gathered in some of the buildings.
"Most of the families living in the area, as well as hundreds of other settlers, have voluntarily evacuated," the police said.
Knesset Speaker Yuli Edelstein visited the Netiv Ha'avot neighborhood earlier Tuesday evening.
It is unnecessary for the families and the children, and it is a pity that we have to reach this situation," said Edelstein, "[We] will look for false petitioners and run to the High Court to move a house a few meters. We will receive in response regular settlements and legalize them. This is the message that comes from here," Edelstein said.
סבל מיותר - התשובה תהיה יישוב מוסדר
דוברות מטה המאבק נתיב האבות
credit: TPS
credit: TPS
credit: TPS
credit: TPS
credit: TPS
credit: TPS
credit: TPS
credit: TPS