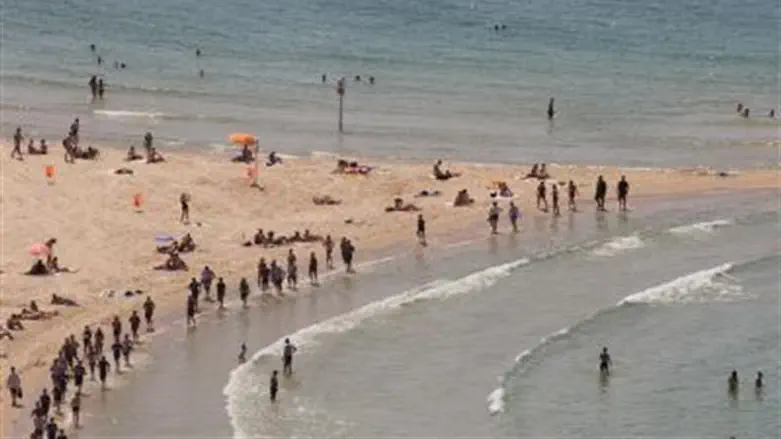 At the beach (file).
Flash 90
A New York City councilman is renting a city beach on Coney Island in order to host gender-segregated swim days for his Jewish and Muslim constituents.
Brooklyn Democrat Chaim Deutsch made the announcement on his Facebook page: "For many New Yorkers, including religious Jews and Muslims who observe modesty laws, there isn't an opportunity to utilize our City's beautiful beaches. I'm excited to offer the chance for EVERYONE to enjoy!"
Men and boys will be able to swim at the southern Brooklyn beach on Friday, June 29 from 9 a.m. to 3 p.m. Women and girls will be invited to do the same on Friday, July 27.
Religious Jewish and Muslim women adhere to stringent laws of modesty that do not allow them to wear bathing suits in front of men.
Deutch has raised $400 per day to cover the cost of lifeguards and other staff, the New York Post reported. The beach at Kingsborough Community College, next to the popular Manhattan Beach in south Brooklyn, is usually closed on those Fridays since there are no summer classes then, according to the newspaper.
"I have a lot of Orthodox Jewish and Muslim constituents in my district who have never been able to go to the beach before," Deutch told the Post. "They've never been able to smell the beach, to walk in the sand. Everyone should be able to enjoy the beach."
Responses on Facebook to Deutch's initiative ran from "great idea" and "Thank you. This is amazing," to "Since we are going to have now Gentile-free days on the beach, can we also have a couple of Muslim-and-Jew-free days per week also? I think it will be only fair solution."
Another Facebook follower wrote: "This is not Tel Aviv or even close to it. and if you want something like that perhaps go there?"