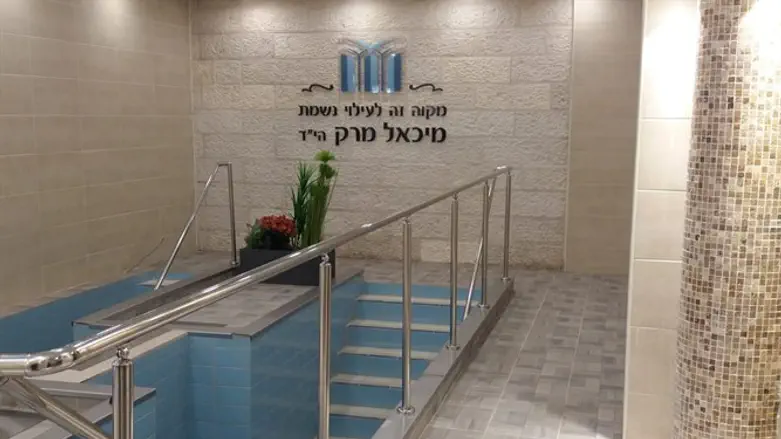 the mikveh dedicated in memory of Rabbi Michael Mark
Otniel yeshiva
The Otniel Yeshiva on Thursday dedicated a new mikveh in honor of its former director, Rabbi Michael Mark, who was murdered in a terrorist attack two years ago.
The mikveh, which was meticulously built according to all halakhic requirements, was originally planned by Rabbi Mark.
One of the participants at the memorial service and the dedication of the mikveh said that Rabbi Mark used to point to a specific location and say "there will be the mikveh."
The speakers at the memorial - the rabbis of the yeshiva, students and family members - said that the subject of purification was close to Rabbi Mark's heart, on both the physical and spiritual levels.

Baruch Avivi, who studied at the yeshiva, told moving stories about ways Rabbi Mark had helped him during his studies in the yeshiva, including with payments for the yeshiva and money for traveling home. The rabbi

The various speakers touched on the idea of purity. "At times, purity is perceived as a reduction of life, and separation from it to a separate place, but 'Micki' had a different concept of purity, a purity that stems from the power of life, the desire to unite body and soul, and to live in the land of Israel."

"It is precisely here that purity comes, where there is recognition of the importance of the body, and the great call to add purity to it, so that it can be united with the soul."
Rabbi Mark was murdered by Arab terrorists in a drive by shooting in 2016. His wife and two of his children were also wounded in the attack.