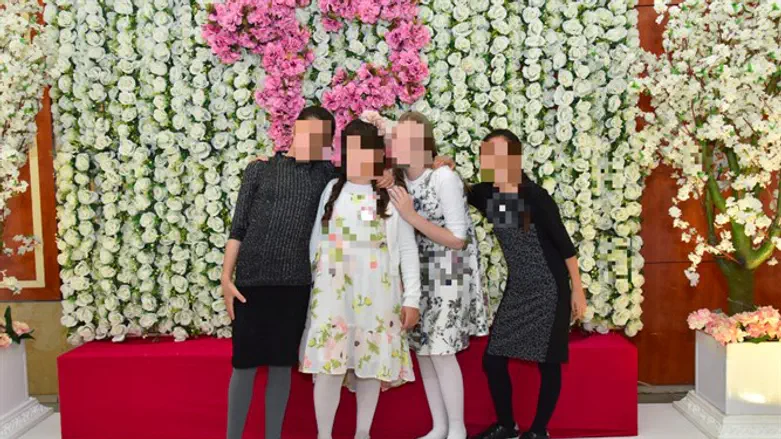 Some of the bat mitzvah girls at the event
Kobi Amsalem
On behalf of 36 orphan girls and their families, Colel Chabad hosted the seventh annual Bat Mitzvah celebration in Jerusalem this week.
Dressed in their finest and surrounded by family and close friends, the Bat Mitzvah girls were able to celebrate in style at the newly renovated Gutnik Hall in Jerusalem with all the arrangements and costs handled by Colel Chabad.
Founded in 1788, Colel Chabad is the oldest continuously-running social welfare organization in Israel. The organization helps needy families throughout the year with a wide variety of programs and services, including educational support and guidance, enrichment programs, financial support and planning and extra support for the holidays.
The joy-filled celebration was mixed with bittersweet emotion as all of these young woman had suffered the loss of a parent, an event often felt most acutely during momentous occasions. Inspirational speaker Rabbanit Yemima Mizrachi presented a message of strength and hope to the girls and their mothers before the group enjoyed a four-course fully catered meal alongside music and dancing.
"All of these preparations – from the beautiful design of the room to the smiles on everyone's faces and the personal attention that we each received as family and not just guests – nothing was left out," said one of the mothers.
"While the mothers and daughters were dancing, I had to move to the side to cry. I thought about my husband, the father of my beautiful daughter, looking down on us from heaven, and I felt alone. But now, looking upon all these other mothers, I see the power we all have together. It doesn't take away the pain, but it gives me strength."
"We know how hard it can be to celebrate an important milestone without the head of the family," said Rabbi Itzik Marton of Colel Chabad.
"We make every effort to give support in every way to these families throughout the year but give it our all to make these momentous occasions even more special. Being together in celebration with others in similar situations gives these mothers and daughters a sense of community and support to help them get through tougher times."