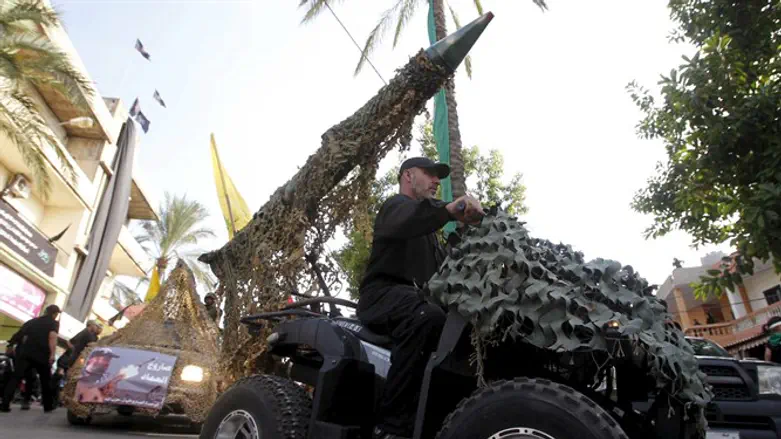 Hezbollah member
Reuters
A senior official at the United States Treasury said on Tuesday that Iran has multiplied its support for the Hezbollah terrorist group to a figure exceeding $700 million, more than three times as much as previous estimates of funding for the Lebanon-based group.
Speaking at the Foundation for Defense of Democracies (FDD) in Washington and quoted by The National, the U.S. Treasury under-secretary for terrorism and financial intelligence, Sigal Mandelker, condemned the Iranian government's behavior on multiple fronts including funding illicit activities and supporting terrorism.
She also referenced U.S.-UAE cooperation and the efforts last month to uncover and break up a secret financial network sending money to Iran's Revolutionary Guard (IRGC) and Quds Force.
Mandelker accused the Iranian regime of using shell and front companies, and forging documents to conceal its tracks in order to "fund terrorists, support weapons of mass destruction proliferation, or exploit its own people through corruption and human rights abuses."
On Hezbollah particularly, she said, "Iran provides upwards of $700 million a year to Hezbollah." That's triple the $200 million figure previously estimated by the U.S. before Hezbollah's involvement in Syria.
Mandelker, a former prosecutor at the department of justice, accused Iran of undermining the international financial system. She said Iran's central bank had a direct role in directing the terror funding activities.
"What is all the more remarkable about this activity is that we are seeing Central Bank of Iran complicity in Quds Force financing," said Mandelker, according to The National.
"We took action with our partners in the UAE to designate this network and shut it down" she added, urging other countries to follow suit.
"The UAE also sent a very strong message that these exchanges and the Quds Force are not welcome there, designating individuals and entities involved in this network and cutting their access to the UAE's financial system" she said.
The United States recently imposed several rounds of sanctions on Hezbollah and officials affiliated with the terror group.
On May 17, the Treasury sanctioned one of the financiers of Hezbollah and its representative to Iran, as well as five entities based in Europe.
The sanctions came a day after the U.S. and its Gulf partners imposed sanctions on the leadership of Hezbollah, including its Secretary-General Hassan Nasrallah and his deputy Naim Qassem.
Before that, the United States imposed sanctions on Iran's central bank governor and an Iraq-based bank for "moving millions of dollars" for Iran's elite Revolutionary Guard.
In February, the United States levied sanctions against six individuals and seven businesses with alleged links to Hezbollah financier Adham Tabaja, a Lebanese businessman who is believed by to be one of Hezbollah's top five money men.
Washington has in the past imposed sanctions on Nasrallah and two other members of the organization, for their alleged role in aiding the Syrian government in its crackdown on opposition forces.
In October, Washington offered multimillion-dollar rewards for two Hezbollah officials as the Trump administration developed its strategy for countering Iran's growing regional influence.
Mandelker in her remarks urged international action in designating actors and activities linked to terror funded by Iran in the eyes of the U.S., and warned of targeting of those who do business with those networks globally.