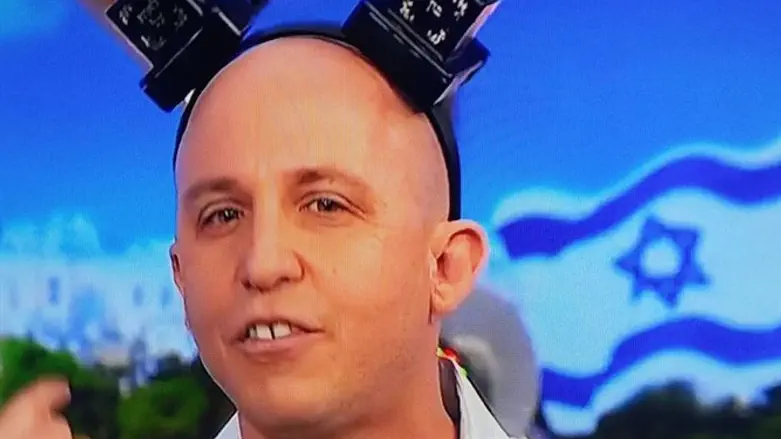 Clip from controversial sketch
Eretz Nehederet
Israeli broadcasting authorities have decided not to punish a television network, after the network apologized for a controversial comedy segment which mocked Jewish tradition.
Earlier this month, the satirical "Eretz Nehederet" television show featured a sketch satirizing Israel's recent win at the Eurovision song contest while mocking Education Minister Naftali Bennett.
In the controversial segment, Bennett is seen wearing a pair of tefillin [phylacteries] on his head, in imitation of the Israeli representative to the Eurovision Song Contest, Netta Barzilai.
The show's use of a Jewish religious article to mock Bennett, himself an observant Jew, sparked outrage, with lawmakers, the broadcasting authority, and even Chief Rabbi David Lau rushing to condemn the skit.
"The use of religious articles in a mocking and insulting manner is terrible," said Rabbi Lau. "It is unacceptable that such a thing be broadcast in the Israeli media and this is not culture or entertainment, it's mockery of tefillin and of religious objects and a trampling of the feelings of millions of Jews."
According to the ICE news website on Thursday, the Keshet Media Group, which operates the Keshet broadcasting company, had apologized for the offensive skit.
Following the apology, Israel's broadcasting authority decided to close the case against Keshet without any punitive action.