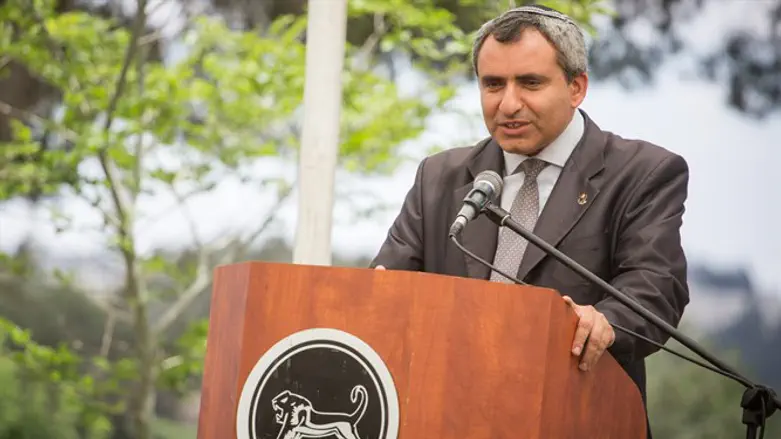 Minister Elkin
Flash 90
A senior Likud lawmaker announced that he will be running for mayor of Jerusalem in this fall's municipal elections.
Zeev Elkin, who currently serves as both Minister of Jerusalem Affairs and Environmental Protection Minister, released a statement Thursday afternoon announcing his bid.
"Dear residents of Jerusalem, I just notified the Prime Minister that I have decided to run for mayor. I am prepared to give up my position as a senior minister and member of the cabinet for Jerusalem, because Jerusalem is the most important national challenge. I ask for your faith and support in the elections."
Elkin, 47, is currently a resident of the Judean town of Kfar Eldad, south of Jerusalem.
Born in the Ukraine, Elkin immigrated to Israel at age 19. A member of Knesset since 2006, Elkin first ran with the Kadima party, before moving to the Likud.
Incumbent mayor Nir Barkat announced in March that he would not seek a third term in office, and would instead run for Knesset with the Likud party.
Moshe Lion, a member of the Likud who ran against Barkat in 2013, declared his candidacy earlier this year. "Five years ago, I decided to put my previous life aside, turned my efforts, abilities and talents into the best interests of Jerusalem, and invested my energies as a member of the city council."
City councilman Ofer Berkovitch, who heads the Hitorerut B'Yerushalayim party ('Wake Up Jerusalem'), has also announced his plans to run this October.