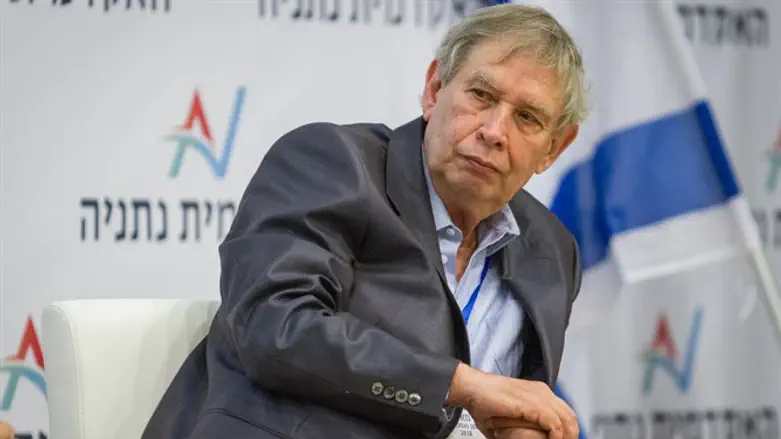 Tamir Pardo
Photo by Meir Vaaknin/Flash90
Deputy Defense Minister Rabbi Eli Ben Dahan (Jewish Home) slammed former Mossad chief Tamir Pardo for his interview with "Uvda" questioning Israeli Prime Minister Binyamin Netanyahu's orders.
In the interview, which will be aired in full on Thursday night, Pardo said he questioned whether Netanyahu was authorized to order Israel to be ready to attack Iran within 15 days of an order being given, investigating whether Netanyahu had the authority to give such an order.
"What Tamir Pardo did was no less than an act of rebellion. In a democracy, those who the people elected are the ones who make the decisions," Ben Dahan said.
"It is inconceivable that someone working in the public sector will refuse to listen to the government's orders, when the government was chosen by Israeli citizens.
"His decision to discuss this topic when we are in the midst of an international battle against those funding Iranian terror harms the battle against Iran, solely for the sake of headlines."
Deputy Minister Dr. Michael Oren (Kulanu) also responded to former Mossad chief Pardo.
"The phenomenon of 'securityists' and 'exes' who come out against the government is only growing. It is important to remember that most of them do not see the overall picture and are not aware of all the factors that led to one decision or another. They are not skilled in decision-making on the international political-strategic level. Moreover, the prime minister has to rely on the people he appoints, "Oren said.

"The fear that a security official will turn to the attorney general or to the media or to foreign leaders against the decision of elected officials harms the state's authority and security," the deputy minister warned.