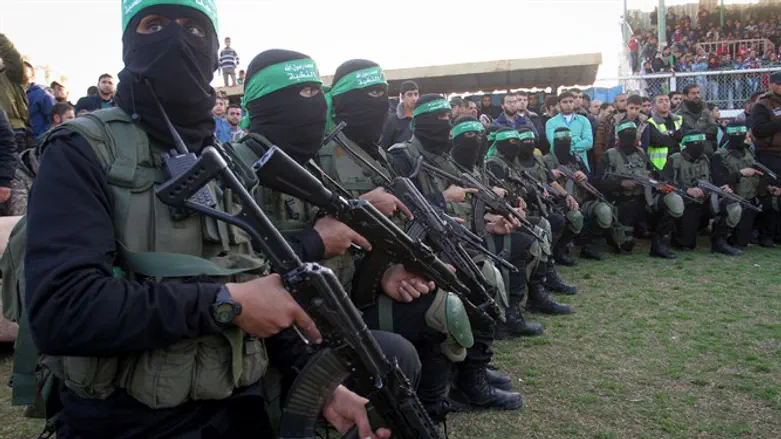 Hamas rally in Gaza
Abed Rahim Khatib/Flash 90
Gaza's Islamist rulers Hamas and an allied terrorist group claimed joint responsibility on Tuesday for dozens of mortar rounds and rockets fired at Israel throughout the day.
The military wings of Hamas and Islamic Jihad announced in a rare joint statement their "joint responsibility for the striking of military positions and Zionist settlements surrounding the Gaza Strip," saying it was in response to Israeli attacks targeting their positions in recent days.
At least three IDF soldiers were wounded by shrapnel from rocket strikes Tuesday.
Earlier Tuesday, a mortar fired from Gaza struck near a kindergarten on the Gaza border.
Transportation Minister Yisrael Katz said in an interview with Army Radio that because of the ongoing rocket fire from Gaza "we are closer to the brink of war than we have been since Operation Protective Edge - we are not interested in this and the other side is not, but we have a red line." He stressed: "Toward evening, the situation will worsen."
The IDF responded to the continuing rocket attacks with a series of airstrikes against terrorist targets in Gaza.