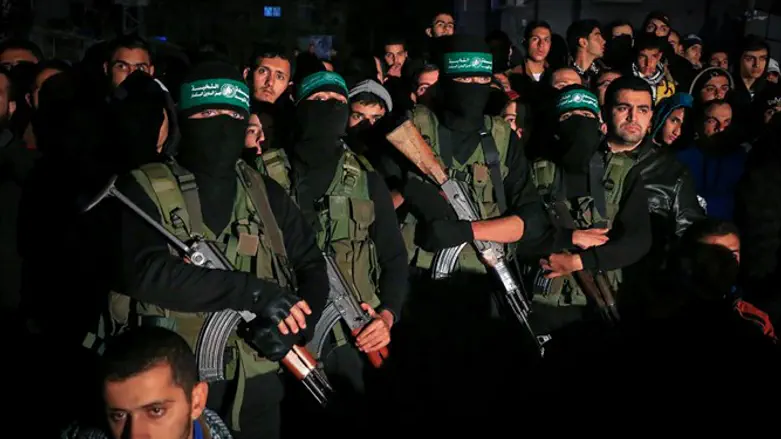 Hamas terrorists
Abed Rahim Khatib/Flash 90
Croatia's top court on Monday blocked the extradition of a Bosnian man to Tunisia over the alleged murder of an aerospace engineer who was a member of the Hamas terrorist group, AFP reported.
Mohamed Zaouari, 49, was killed in a hail of bullets outside his house in the Tunisian city of Sfax in December of 2016.
"The Supreme court accepted the appeal of the suspect... and rejected the request for extradition from the Republic of Tunisia," the court said in a statement quoted by AFP.
At a hearing on May 8, the lower court said it had established that "legal preconditions" had been met for the extradition of Alen Camdzic, 46, who has been named by local media.
The final decision will be made by the justice minister.
Camdzic was arrested in Croatia on March 13 on an international warrant and has been held in custody since, the court in Velika Gorica, near Zagreb, said in a statement.
His arrest was announced by Tunisian prosecutors who said they believed that two people with Bosnian passports had carried out the killing.
The second suspect, Elvir Sarac, was briefly detained in Sarajevo earlier this week but released when a court refused to hand him over to Tunisia, saying there was no extradition deal between the countries.
Hamas said two days after Zaouari's death that he was a member of the organization's military wing and one of the leaders of its drone program. The group at the time also blamed Israel for his death.
Tunisia also directly blamed Israel for the scientist's death. Earlier this month Tunisia said it had arrested a suspect in Zaouari's murder.
Israel has not responded to accusations it was behind the killing.
Israel has also been accused of being behind the assassination last month in Malaysia of Fadi al-Batsh, a Hamas scientist who was said to be a rocket-making expert. He was shot dead in a hail of bullets by motorbike-riding attackers as he walked to a Kuala Lumpur mosque for dawn prayers.
Hamas blames Israel's Mossad agency for Batsh's death as well and has threatened to retaliate.