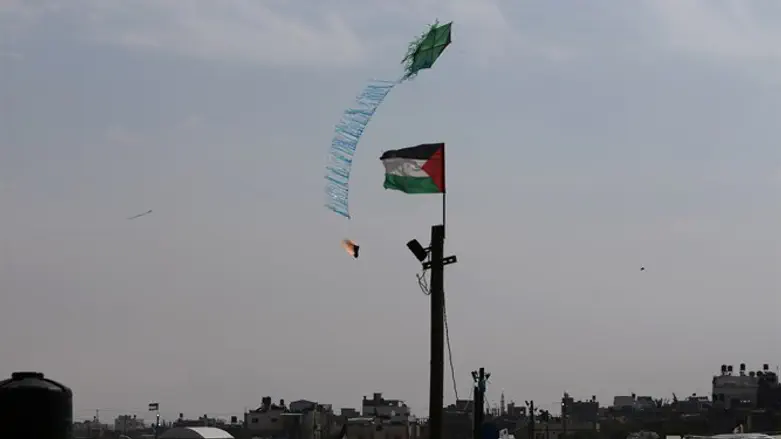 Kitebomb on Gaza border
Reuters
An IDF force arrested two terrorists who arrived to carry out an attack, attempting to cross the northern Gaza security fence. The terrorists were caught with knives, cutters, and incendiary material. During the chase the terrorists opened fire at our forces. In response, the IDF attacked a nearby observation post with a tank. No casualties were reported.
According to reports from the Gaza Health Ministry one terrorist was killed and another injured as a result of the IDF attack.
Last night it was announced the IDF a few days ago located at the Gaza border an explosive drone flown by Gaza Arabs intended to crash in Israeli territory causing casualties.
The IDF Spokesman's announced that "a few days ago during night hours a drone was found to have crossed northern Gaza into the country and fell in the Shaar Hanegev Regional Council. Upon investigation explosive material was found mounted on the drone."
Yesterday morning three Islamic Jihad terrorists were killed in an IDF attack in southern Gaza in retaliation for the discovery of the explosive device near the fence.
IDF Spokesman Brigadier General Ronen Manlis addressed Islamic Jihad threats and said "Following the laying of the bomb near the border fence, the IDF attacked a squad of terrorist operatives who were in the area. We hear the threats from the Iranian-supported terrorist organizations from Gaza. Whoever plays with fire puts himself in danger."