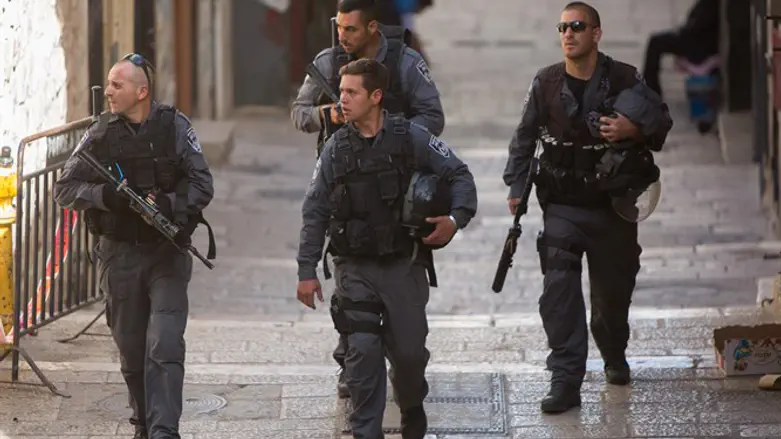 Border Police officers
Yonatan Sindel/Flash 90
A terrorist opened fire overnight Wednesday at Border Police soldiers who were stationed in the Beit Jala area, near Bethlehem.
The terrorist was identified by lookouts who directed Border Police soldiers and an IDF force that searched the area until the terrorist was located.
During the course of the chase after him, the terrorist fired at a team of Border Police officers who were headed towards him in an attempt to neutralize him. As a result, their armored vehicle was hit by several bullets, including one which hit one of the car's windows.
After the vehicle hit with the terrorist, he tried to flee when the fighters stormed him with weapons drawn, fired into the air and apprehended him.
A knife was found on the terrorist's body and an FN type pistol, with which he is believed to have fired at the security forces, was found nearby.
The terrorist, a resident of Beit Sahur, near Bethlehem, in his 20s, was arrested. He suffered light injuries during the incident, received medical treatment at the scene and did not need require evacuation to hospital.
There were no injuries among the security forces.
On Wednesday, IDF, Israel Security Agency (Shin Bet), and Israeli Police forces arrested two terrorists who carried out a shooting attack on an Israeli vehicle in the Binyamin region of Samaria a day earlier.
The terrorists, who are residents of Ramallah, were interrogated by the Shin Bet.
Overnight Tuesday, security forces arrested four wanted Arabs suspected of terrorist activity and rioting.
During a search in the village of Rantis, security forces seized thousands of shekels that were meant for terrorist activities. In addition, IDF and Border Police officers seized weapons in the city of Shechem (Nablus).