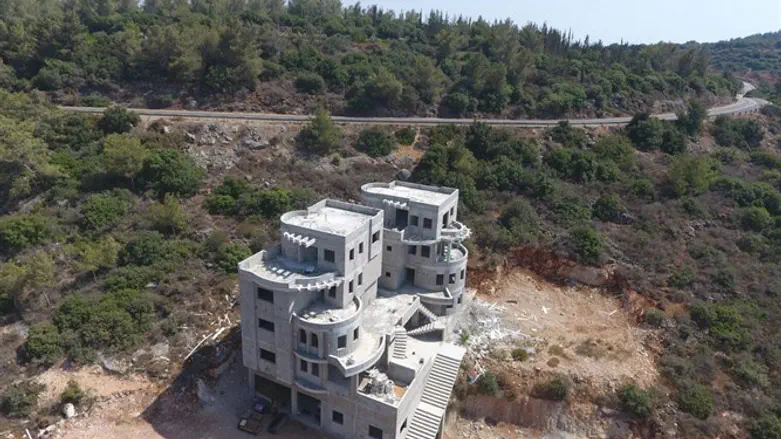 Illegal building in Galilee
Regavim
The Regavim movement for protecting Israel's resources welcomed approval of regulations in the Interior Committee tonight allowing for administrative fines for illegal construction and breaching demolition orders.
"After years of stalemate, the moment of truth has now arrived where we'll see whether the State will act against this national plague," Regavim said.
The Administrative Offenses Regulations approved today by the Interior and Environmental Protection Committee state that for the first time administrative fines will be imposed for building violations and deviations. Fines range from NIS 8,000 to NIS 300,000 and will be imposed according to different variables: the size of the building, the location of the building, construction offenses and usage offenses, private or corporate construction, and more.
Regavim, which operates in the field of enforcement and legislation against illegal construction throughout the country, calls this "an important first stage".
"In the State of Israel there are hundreds of thousands of 'hardcore' illegal structures, and this does not take into account structures with building irregularities," explains Regavim's Policy and Legislation Director Meir Deutsch.
"This is the reason the Supreme Court defined illegal construction in Israel as a true national plague. Most construction offenders have been dealt with so far in a lengthy and exhausting legal process that often ended without real enforcement, and in any case has lost the deterrent effect.
"We commend the inter-ministerial team headed by Deputy Attorney General Erez Kamenitz, who implemented a large part of our recommendations in this field, Prime Minister Netanyahu and Justice Minister Ayelet Shaked, Interior Committee Chairman Yoav Kish and Dudi Amsalem who worked hard on the amendments to the Planning and Building Law. Now, after years of stalemate, the moment of truth has arrived with the question of whether the State of Israel really wants to act in a systemic and profound way against illegal construction and put an end to this plague."