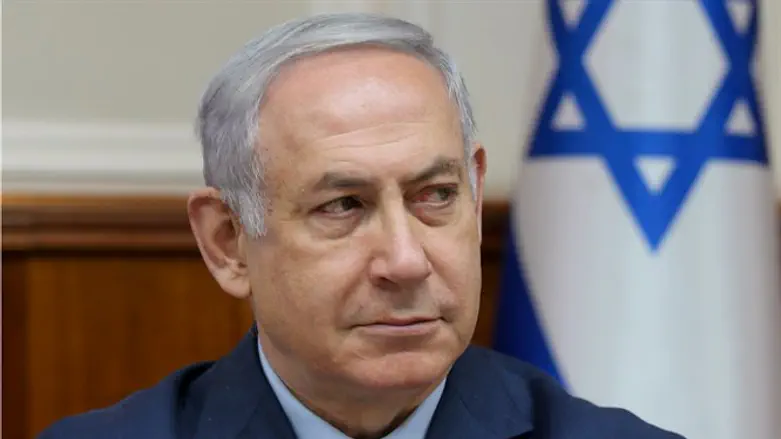 Netanyahu at meeting
Flash 90
Prime Minister Binyamin Netanyahu on Friday reacted to the UN Human Rights Council's (UNHRC) vote to establish a Commission of Inquiry to examine possible war crimes committed by Israel during the recent confrontations on the Gaza border.
"There is nothing new under the sun. The organization that calls itself the Human Rights Council has once again proved that it is a hypocritical and biased body whose goal is to harm Israel and to back terrorism, but it has mostly proved to be irrelevant. Israel strongly rejects the decision made by an automatic anti-Israeli majority, the results of which are known in advance," Netanyahu wrote on Twitter.
"The State of Israel will continue to protect its citizens and soldiers as its right to self-defense grants it," he added.
The resolution voted upon earlier Friday was approved by a vote of 29-2, with 14 abstentions, following a day-long special session in Geneva. The U.S. and Australia were the only two countries that voted against the resolution.
Germany, Hungary, Japan, the Republic of Korea, Croatia, Ethiopia, Georgia, Kenya, Panama, Rwanda, Switzerland, Togo, and Britain abstained. Ukraine and Mongolia were not present at the time of voting.
Israel's Ambassador to the United Nations, Danny Danon, also condemned the move earlier on Friday.
"The fact that this shameful decision was made even after Hamas officials admitted that the vast majority of those killed were terrorists proves, once again, that nothing can separate this Council from its hatred of Israel. The day this Council investigates the war crimes of Hamas is the day it can be called the Human Rights Council," said Danon.
U.S. Ambassador to the UN Nikki Haley blasted the UNHRC after the vote.
"At a time when Venezuela lurches toward dictatorship, Iran imprisons thousands of political opponents, and ethnic cleansing has taken place in Burma, the UN's so-called Human Rights Council has decided to launch an investigation into a democratic country's legitimate defense of its own border against terrorist attacks. It is another shameful day for human rights," said Haley.
The violent riots on the Israel-Gaza border, dubbed the "March of the Return", started on March 30, before the embassy relocation, and have been openly encouraged by Hamas.
Earlier this week, one of the leaders of the group openly admitted that most of the Gazans killed by Israeli fire during border protests and clashes were members of the terrorist group.
(Arutz Sheva's North American desk is keeping you updated until the start of Shabbat in New York. The time posted automatically on all Arutz Sheva articles, however, is Israeli time.)