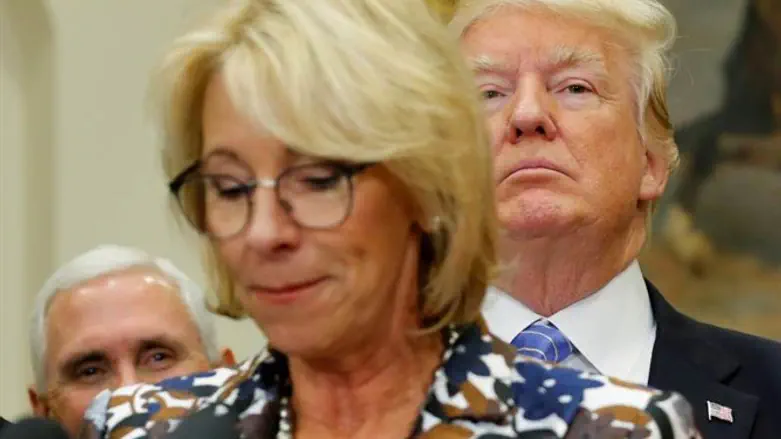 Betsy DeVos
Reuters
Education Secretary Betsy DeVos visited two yeshiva high schools in New York this week, amid allegations that such schools fail to provide an appropriate secular education.
"Secretary DeVos made these historic visits to better understand Jewish education, a unique and time-honored tradition, within the diversity of the American educational tapestry," said Rabbi Abba Cohen of the ultra-Orthodox organization Agudath Israel of America, which pressed for the visits.
"In these schools, she saw commitment, innovation, inclusion, and values. Hopefully, also, the Secretary has gained a greater appreciation of why Jewish education means nothing less than 'continuity and survival' to us… and why we sacrifice so much to provide it to our children." Cohen said Thursday in an email to JTA.
DeVos visited the Manhattan School for Girls on Tuesday and on Wednesday visited Yeshiva Darchei Torah, a preschool through high school yeshiva with divisions for boys and girls.
The secretary's visit comes as New York City's Department of Education investigates whether hasidic schools provide an adequate secular education to their students. The investigation was launched in, response to allegations by former students of such schools that the city and state failed them and that they were not prepared for life or employment in the outside world. The two schools that DeVos visited do have tracks that prepare students for higher education. Their students also take the state Regents exam, which measures their readiness for higher education.
The New York State budget approved last month included a provision that eases oversight of nonpublic schools, allowing haredi yeshivas leeway in complying with state law requiring private schools to offer students instruction that is "at least substantially equivalent" to that offered in public schools. State Sen. Simcha Felder, a Democrat who represents several haredi neighborhoods in Brooklyn, had threatened to withhold his needed support for the budget without the provision.
The New York Times reported that enrollment in Orthodox Jewish schools in New York is steadily rising. There were at least 52,000 children enrolled in hasidic school in New York City in 2013, the newspaper reported, citing figures from the Avi Chai Foundation, and 28,500 in other yeshiva day schools.
DeVos has not yet visited a New York public school, and was criticized by the city's Department of Education for her choice of New York schools to visit on this trip.