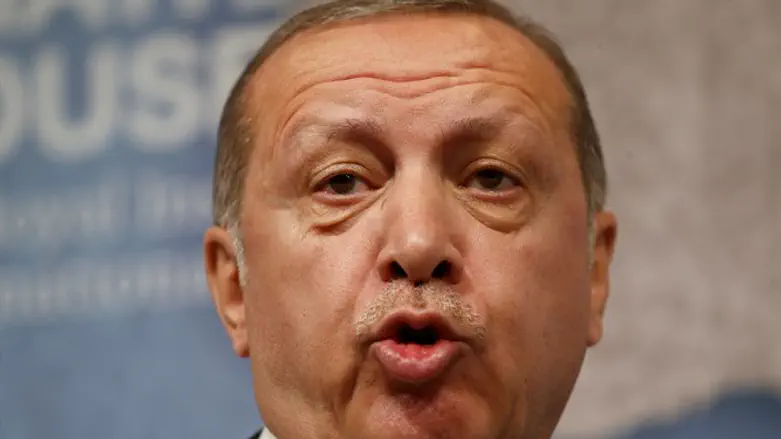 Recep Tayyip Erdogan
Reuters
Turkish President Recep Tayyip Erdogan on Wednesday continued his verbal attacks on Israel, accusing it of "tyranny" in the wake of the violent riots along the Gaza border.
In comments at a dinner in Ankara, the Turkish leader lashed out at the international "silence" over the deaths of dozens of Palestinian Arabs on the Gaza border.
"If the silence on Israel's tyranny continues, the world will rapidly be dragged into a chaos where banditry prevails," Erdogan said, according to AFP.
Ties between Israel and Turkey deteriorated in recent days after 60 Gazans were killed during the violent "March of the Return" riots on the Israel-Gaza border.
Turkey earlier in the week temporarily expelled the Israeli ambassador to Istanbul over the Gaza riots. In response, Israel temporarily expelled the Turkish consul in Jerusalem.
On Wednesday, the Israeli Ambassador to Turkey, Eitan Naeh, was subjected to special security checks in Istanbul.
Turkey later ordered Israel's consul general in Istanbul, Yosef Levi Sfari, out of the country as well.
In addition to the diplomatic moves, Erdogan has continued to attack Israel over the violence.
On Tuesday, Erdogan accused Prime Minister Binyamin Netanyahu of having blood on his hands.
"Netanyahu is the PM of an apartheid state that has occupied a defenseless people's lands for 60+ yrs in violation of UN resolutions. He has the blood of Palestinians on his hands and can't cover up crimes by attacking Turkey," Erdogan tweeted.
Netanyahu later fired back, saying, "A man who sends thousands of Turkish soldiers to hold the occupation of northern Cyprus and invades Syria will not preach to us when we defend ourselves from an attempted infiltration by Hamas."
"A man whose hands are stained with the blood of countless Kurdish citizens in Turkey and Syria is the last one who can preach to us about combat ethics," Netanyahu added.
Erdogan later insisted that Hamas is not a terrorist organization.
"Reminder to Netanyahu: Hamas is not a terrorist organization and Palestinians are not terrorists. It is a resistance movement that defends the Palestinian homeland against an occupying power. The world stands in solidarity with the people of Palestine against their oppressors," he tweeted.
Israel and Turkey signed a comprehensive reconciliation deal in 2016, ending a six-year diplomatic standoff following a violent encounter between Israeli soldiers and Islamist radicals on a ship attempting to break through the security blockade on Gaza.
However, Turkish officials, and particularly Erdogan, have continued to verbally attack and criticize Israel even after the agreement was signed.