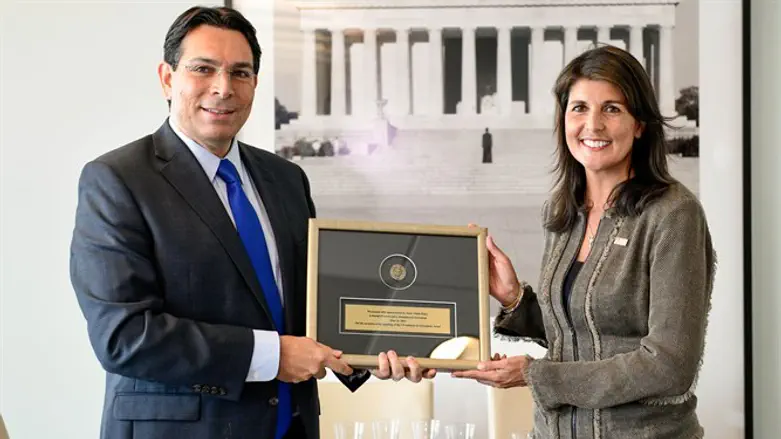 Danon and Haley with ancient coin
Shahar Azran
Israel's Ambassador to the UN, Danny Danon, met with the US Ambassador to the UN, Nikki Haley, in honor of the opening of the American Embassy in Jerusalem.
He presented her with an ancient coin from the Great Revolt of 68 CE with a personal dedication: "This is a historic day for Israel and the United States. I thank you, Ambassador Haley, for your strong support of this great move."
Ambassador Danon explained the significance of the coin.
"Written in Hebrew on this ancient coin, nearly 2,000 years old, are the words, "Freedom of Zion," on one side, and "Year Two of the Revolt," on the other, referring to the second year of the Jewish revolt against the Romans. This coin proves that Jerusalem has always been the capital of the Jewish people."
Ambassador Haley raised a toast, "In honor of our friendship, our partnership, and now the US embassy in Jerusalem."
Ambassador Danon concluded his remarks to Ambassador Haley, "The people of Israel are grateful for your leadership and for President Trump's leadership!"