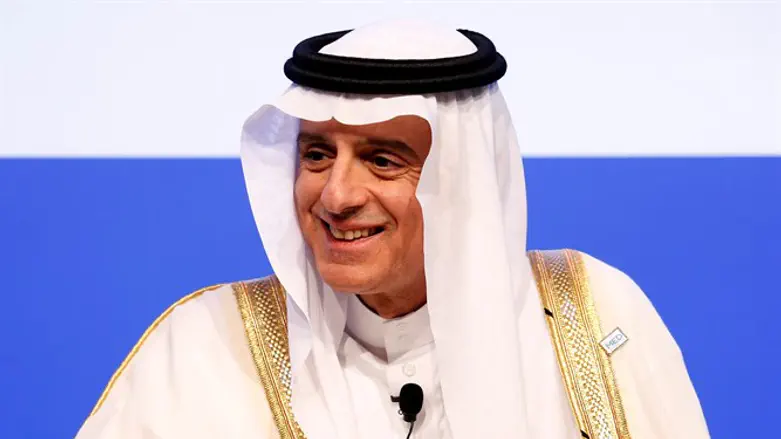 Adel al-Jubeir
Reuters
Saudi Arabia's Foreign Minister, Adel Al-Jubeir, said on Wednesday that his country stands ready to build nuclear weapons if Iran restarts its nuclear weapons program.
In an interview on CNN, Jubeir was asked what his country will do if Iran restarts its nuclear program and replied that "we will do whatever it takes to protect our people. We have made it very clear that if Iran acquires a nuclear capability we will do everything we can to do the same."
Asked to clarify whether that means the kingdom will work to acquire its own nuclear capability, the Saudi Foreign Minister reiterated, "That's what we mean."
The interview aired a day after U.S. President Donald Trump announced that Washington was quitting the 2015 nuclear deal with Iran and would reimpose sanctions on the Islamic Republic.
Jubeir praised Trump's announcement, telling CNN, "We believe the nuclear deal was flawed. We believe the deal does not deal with Iran's ballistic missile program nor does it deal with Iran's support for terrorism."
Saudi Arabia and its Gulf Arab allies welcomed Trump's Tuesday decision, with the Saudi Foreign Ministry saying in a statement that "Iran used economic gains from the lifting of sanctions to continue its activities to destabilize the region, particularly by developing ballistic missiles and supporting terrorist groups in the region."
It backed Trump's move to reimpose sanctions and urged the international community to work toward a "comprehensive view that is not limited to its nuclear program but also includes all hostile activities".
Shiite Iran and Sunni Saudi Arabia have a historic rivalry in the Middle East. Saudi Arabia has repeatedly called on Iran to stop its "meddling" in the affairs of the kingdom's neighbors.
Iran has fired back, accusing Saudi Arabia of trying to "drag the entire region into confrontation".
Riyadh repeatedly spoke out against the 2015 deal. During the negotiations between Iran and world powers, Saudi Arabia and other major Sunni states expressed concern over a deal which would allow Iran to produce nuclear weapons.
Ultimately, however, Saudi Arabia's government announced that it welcomed the deal.
In March, Jubeir called the Iranian deal a "flawed agreement", calling out Iran for its destabilizing behavior in the region.
His comments on Wednesday are in line with recent remarks made by Saudi Crown Prince Mohammed Bin Salman in March.
The Crown Prince told CBS at the time that his country would be compelled to develop its own nuclear capabilities if Iran succeeds in acquiring a nuclear arsenal.
"Saudi Arabia does not want to acquire any nuclear bomb, but without a doubt if Iran developed a nuclear bomb, we will follow suit as soon as possible," he stressed.