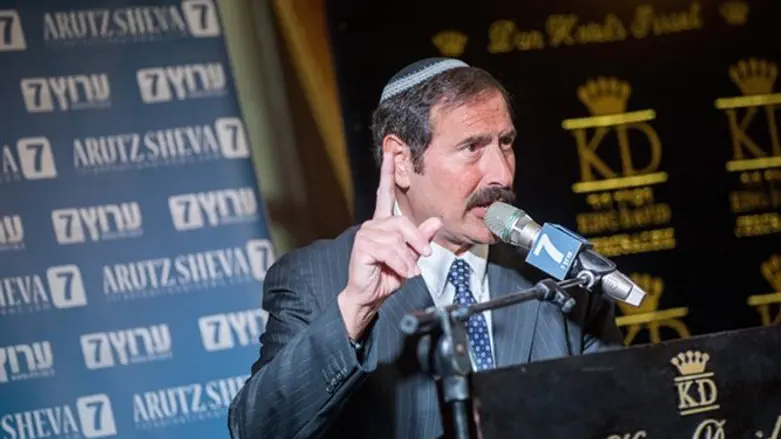 Dr. Joseph Frager at Salute to Jerusalem Conference
Yonatan Sindel
Arutz Sheva held a special conference at the King David Hotel in Jerusalem yesterday, titled the 'Salute to Jerusalem' conference.

The conference was the peak of the visit of a senior delegation from the US headed by First Vice President of the National Council of Young Israel Doctor Joseph Frager.

Several hours before US President Donald Trump's announcement that the US would withdraw from the Iran nuclear deal and a week before the relocation of the US embassy in Israel to Jerusalem, the Israeli ministers and officials, as well as the guests from America, related to the current events expressing their gratitude to the special attitude of the Trump administration towards Israel.
credit: Yonatan Sindel
credit: Yonatan Sindel
credit: Yonatan Sindel
credit: Yonatan Sindel
credit: Yonatan Sindel
credit: Yonatan Sindel
credit: Yonatan Sindel
credit: Yonatan Sindel
credit: Yonatan Sindel
credit: Yonatan Sindel
credit: Yonatan Sindel
credit: Yonatan Sindel
credit: Yonatan Sindel
credit: Yonatan Sindel
credit: Yonatan Sindel
credit: Yonatan Sindel
credit: Yonatan Sindel
credit: Yonatan Sindel
credit: Yonatan Sindel
credit: Yonatan Sindel
credit: Yonatan Sindel
credit: Yonatan Sindel
credit: Yonatan Sindel
credit: Yonatan Sindel
credit: Yonatan Sindel
credit: Yonatan Sindel
credit: Yonatan Sindel
credit: Yonatan Sindel
credit: Yonatan Sindel
credit: Yonatan Sindel
credit: Yonatan Sindel
credit: Yonatan Sindel
credit: Yonatan Sindel
credit: Yonatan Sindel
credit: Yonatan Sindel
credit: Yonatan Sindel
credit: Yonatan Sindel
credit: Yonatan Sindel
credit: Yonatan Sindel
credit: Yonatan Sindel