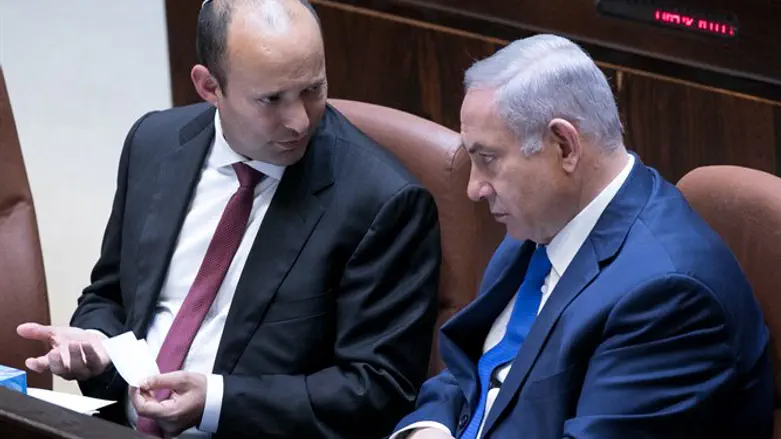 Bennett, Netanyahu
Flash 90
The Jewish Home party responded this afternoon to the Prime Minister's accusations that they are the ones preventing advancement of the Overrule Clause that would under specified conditions allow the Knesset to re-enact laws that the Supreme Court has ruled out.
"Passing the Overrule Clause has dragged out over the past three years with various excuses. We announce in advance that any Overrule Clause that will be reached with the consent of Prime Minister Netanyahu, Finance Minister Kahlon, and the other coalition parties, will also be acceptable to the Jewish Home party, but that the Prime Minister should introduce the bill. Meanwhile, the only practical solution on the table is the law passed yesterday with support of all the ministers," Jewish Home announced.
At the Likud faction meeting Netanyahu accused ministers Bennett and Shaked of preventing the law's passage.
"Jewish Home is currently pushing passage of the Overrule Clause into the trash. The only way to pass the Overrule Clause at the moment is by reaching agreements within the coalition," Netanyahu said.
Minister Zeev Elkin added that at the moment. "achievements in this area can be brought only quietly and not in media headlines."
בנט: לא מכיר פתרון אחר מלבד פסקת ההתגברות