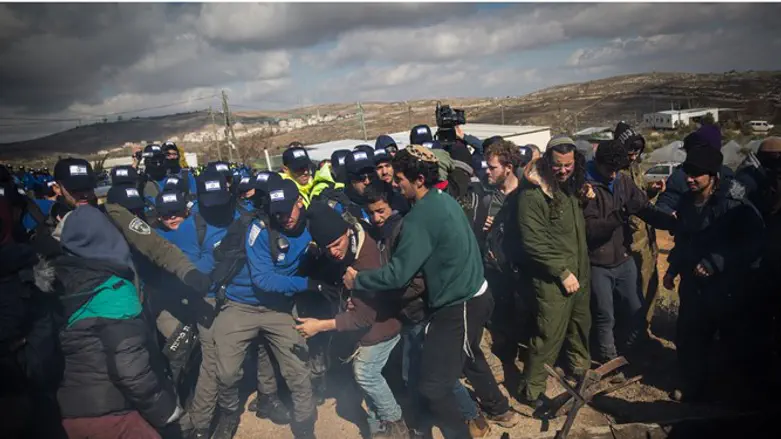 Amona destruction
Flash 90
An e
xpos
é by the Lavi citizen's rights and good governance organization alleges that a senior official in Yesh Din responsible for research, testimony, and Supreme Court cases for years "is a former member of a terror group, a convicted killer, and spent years in Israeli prison". The Lavi Organization stated, "The public should see the true face of this organization which harms the State of Israel and IDF soldiers."
Senior Yesh Din Official for many years, Muhammad Anati, is a former member of an outlawed organization several of whose members were found guilty of murder. Anati himself was convicted of security offenses and of killing an informer during the 80's. Anati spent several years in Israeli prison as a result. He was originally sentenced to 13.5 years behind bars, but ended up being released earlier for good behavior. During his time in prison, Anati completed two academic degrees.
Following his release, Anati began working for "human rights" groups and after a few years switched to Yesh Din. Anati worked at Yesh Din from 2008-2016 and was responsible for the group's research reports, bringing Arab witnesses from Judea and Samaria to testify in Israeli courts, and filing briefs and testimony with the Supreme Court.
Much of Yesh Din's legal work was based on the briefs and testimony that Anati gathered. Anati's yearly salary during his work for Yesh Din was over 184,000 NIS (over 50,000 USD), which made him the second highest-paid employee in the organization. Only Yesh Din Director Neta Patrick was paid more.
Anati's past was discovered by Attorney Rechavia Piltz, who represented an Israeli family in a lawsuit filed against them by Anati. The lawsuit was dropped by Anati following a recommendation by the court.
"We are proud to expose that the number-2 official in this so-called 'human rights group' is a convicted terrorist who has taken part in shortening human lives," said representatives of the Lavi Organization. "This terrorist was a very central figure in 'Yesh Din.' He took part in gathering testimony, carrying out research, and filing briefs with the Supreme Court on behalf of Yesh Din. The public should see the true face of this 'human rights organization' which harms the State of Israel and IDF soldiers."
Avichai Boaran, who led the fight on behalf of residents of Amona against a petition filed by 'Yesh Din,' added, "For many years Amona residents have said Yesh Din is an anti-Zionist group that makes cynical use of the Israeli Court system. They take actions that contradict Zionist ideals and harm Israeli soldiers and citizens. For years we have stated about Yesh Div, 'the voice is that of Jacob, but the violent hands are those of Esau.' Finally the truth has been exposed and the mask has been pulled off exposing the ugly face of Yesh Din. For years the group described itself as fighting on behalf of human rights while harming Israel soldiers and the security of Israeli citizens. Yesh Din's actions even led to the brutal expulsion of women and children from their homes and the destruction of entire communities like Amona."
Yesh Din responded by saying that "like Arutz Sheva that employed in a senior position a person who was in prison for a partnership in a cell that committed security offenses and gave a platform in the articles column to another member of the cell, Yesh Din also believes that people can change, and do not see fit to automatically disqualify a person who committed an offence and served his sentence. Moreover, Yesh Din does not cooperate with persecution campaigns against human rights organizations and activists and attempts to present their work as illegitimate. Therefore, we have no intention of addressing the questions that were put to us."