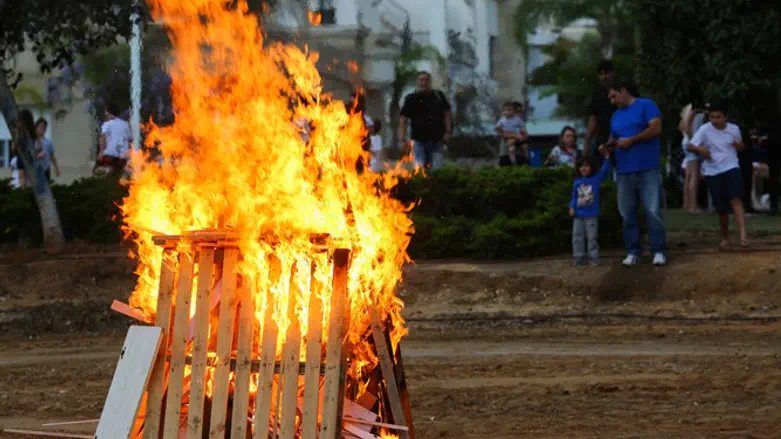 Lag b'Omer bonfire
Flash 90
Municipalities throughout Israel are banning the bonfires that mark the minor holiday of Lag B'Omer, in response to official warnings about high temperatures.
Hot, dry and windy conditions have blanketed the country for two days. Officials are concerned that the traditional holiday bonfires could spark large and uncontrolled conflagrations, and reminding the public that 10 teenagers died in a flash flood last week when group leaders appeared to ignore safety warnings.
Haifa, Hadera, Holon, Beersheba, Modiin, as well as the Education Ministry and kibbutz movement, have banned bonfires. Tel Aviv has designated 21 areas throughout the city where bonfires may be lit. Rishon Lezion, Petach Tikvah, Ashdod and Jerusalem have asked residents to refrain from lighting bonfires but will not enforce the directive, according to Hadashot news.
The Israel Fire and Rescue Service also banned bonfires in great swaths of northern and central Israel. It also released a stringent set of guidelines on how build and observe a bonfire.
Lag B'Omer marks the 33rd day of the counting of the days between the holidays of Passover and Shavuot and the end of a minor mourning period recognizing the deaths of thousands of students of the second-century C.E. sage Rabbi Akiva. Lag b'Omer also commemorates the death Jewish kabbalist and mystic Rabbi Shimon Bar Yochai, a disciple of Akiva.
The bonfires, lit at sundown, are meant to symbolize the light of his teachings.
Rabbi David Stav, president of the Tzohar Rabbinical Organization, said in a statement that "the commandment to protect ourselves from harm supersedes" the Lag b'Omer tradition.
He encouraged the public to heed safety warnings and bonfire bans, noting the deaths of the teens in southern Israel last week.
"Last week, we were witness to a tragedy that resulted when the advice of authorities was not properly respected," Stav said. "I would humbly say that even Rabbi Shimon Bar Yochai would prefer that we act in a responsible and safe manner rather than risk someone being injured or mass destruction of property."