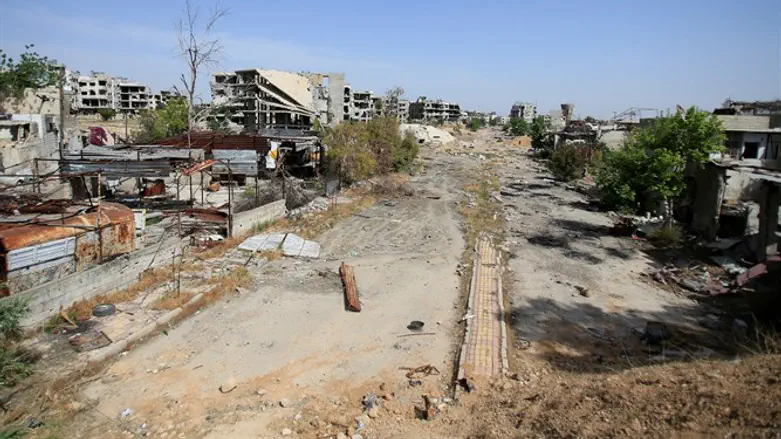 Syria
Reuters
More than 200 missiles were destroyed in the explosions which took place in Syria overnight, a source from a pro-Assad alliance told the New York Times.
According to the source, 16 people were killed in the explosions, including 11 Iranian citizens.
On Sunday night just after 10:30 p.m. local time, explosions were heard at military bases in Hama and Aleppo in the war-torn country. Initial reports suggest nine missiles were struck the facilities, including a base known as "Brigade 47", outside of Hama, used by Iranian-backed militias in the region.
Syrian army sources confirmed the attacks, but offered few details.
Earlier on Monday, Iran's state-run ISNA reported that 18 Iranians had died in the explosions. However, Iran later backtracked and claimed that none of its forces were killed.
Iran's supreme leader Ayatollah Ali Khamenei hinted Monday that Tehran would not remain silent in the wake of the attacks on Iranian forces in Syrian territory.
"The period of 'hit and run' is over. Any attack will be met with a counterattack," Khamenei said. "Wherever U.S. entered, it created instability, brought misery to people; that's why U.S.'s feet must be cut off from West Asia; U.S. must exit this region. The one whose feet should be cut off is U.S., not Islamic Republic. We are from here. Persian Gulf, West Asia are our home," he wrote on his Twitter account.
The UK-based Syrian Observatory for Human Rights put the death toll at 26, most of whom it claimed were "foreign fighters", a reference to Iranians stationed in Syria.
"At least 26 fighters were killed, including four Syrians," said SOHR chief Rami Abdel Rahman, AFP reported.
Israel Security Cabinet convened for an emergency meeting Monday afternoon following the explosions in Syria.