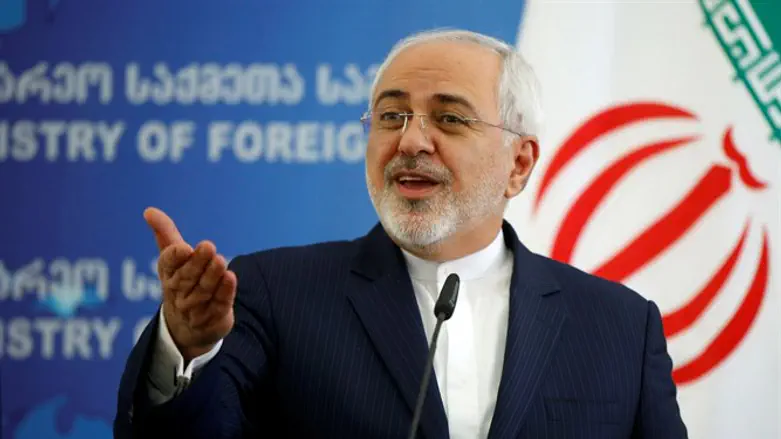 Iranian FM Mohammad Javad Zarif
Reuters
Iranian state-controlled media backtracked on claims that bases operated by Tehran's Revolutionary Guard were hit by missiles in Syria, and that 18 Iranians were killed in the strikes.
Earlier on Monday, Iran's state-run ISNA reported that 18 Iranians had died in a series of missile strikes on military facilities inside Syria Sunday night.
Explosions had been heard at military facilities in and around Hama and Aleppo at around 10:30 p.m. Sunday. One of the targets was reported to be a base known as Brigade 47, near Hama, used by Iranian-backed militias.
Officials within the Syrian military confirmed the attacks, but refrained from offering any details.
"Syria is being exposed to a new aggression with some military bases being hit with missiles in rural [areas near] Hama and Aleppo," one source said, according to a report by Reuters.
According to a report by Sky News, more than 40 people were killed in the missile strikes, with dozens more injured.
The UK-based Syrian Observatory for Human Rights put the death toll at 26, most of whom it claimed were "foreign fighters", a reference to Iranians stationed in Syria.
"At least 26 fighters were killed, including four Syrians," said SOHR chief Rami Abdel Rahman, AFP reported.
"The others are foreign fighters, a vast majority of them Iranians."
The SOHR chief said he believed that Israel was probably behind the missile attack.
"Given the nature of the target, it is likely to have been an Israeli strike."
While Iran's ISNA initially confirmed that Iranians had been killed, reporting that there were 18 known casualties, the outlet later deleted the report.
The Iranian Tasnim outlet later denied claims facilities operated by Iran had been struck in Syria, calling the reports "baseless".
"All these reports over attack on an Iranian military base in Syria and the martyrdom of several Iranian military advisers in Syria are baseless," Tasnim cited an unnamed source as saying.
Along with the SOHR, Hezbollah's Al-Akhbar news outlet suggested that the Israeli Air Force was responsible for the missile strikes.
But Syria's Tishreen accused the US and UK of launching the attack.
The explosions came just hours after President Donald Trump and Israeli Premier Binyamin Netanyahu spoke over the phone to discuss regional threats emanating from Iran.