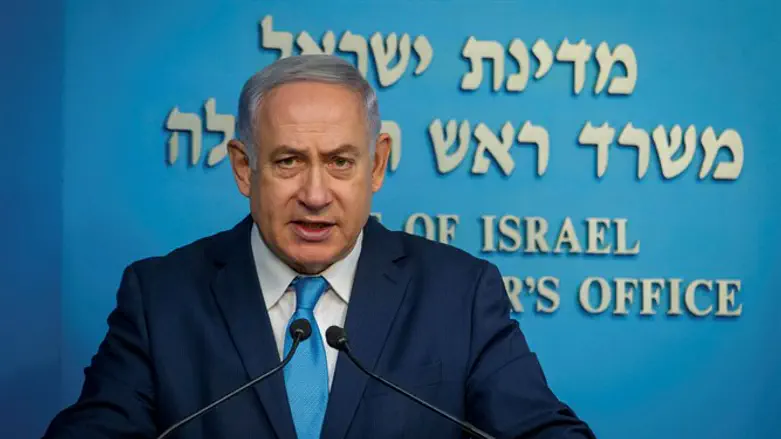 Prime Minister Binjamin Netanyahu during press conference regarding the Disabled Layout. J
Hillel Meir/TPS
Prime Minister Binyamin Netanyahu spoke out Sunday afternoon against fans of an Israeli-Arab soccer team, after some spectators booed during a moment of silence for the 10 Israeli teens killed during a flash flood in southern Israel last Thursday.
Last Thursday, 10 teenagers were killed while hiking in Nahal Tzafit near the Dead Sea. A flash flood hit the group of 25 hikers from the Bnei Tzion pre-army preparatory academy, Thursday afternoon, following heavy rains in the area.
During a match Saturday in the Israeli-Arab town of Sakhnin in northern Israel, some fans of the local Bnei Sakhnin team were seen booing when a moment of silence was called in memory of the victims of the flood.
Netanyahu responded to the story, first reported by Arutz Sheva, in a Facebook post Sunday afternoon, calling the behavior "an utter disgrace".
"An utter disgrace. I expect all public leaders, both Jewish and non-Jewish, to strongly condemn this embarrassing behavior."
Earlier on Sunday, Communications Minister Ayoub Kara (Likud), a member of Israel's Druze community, blasted the Bnei Sakhnin fans who booed during the moment of silence, saying the behavior "seriously harms… coexistence between Jews and Arabs in Israel."