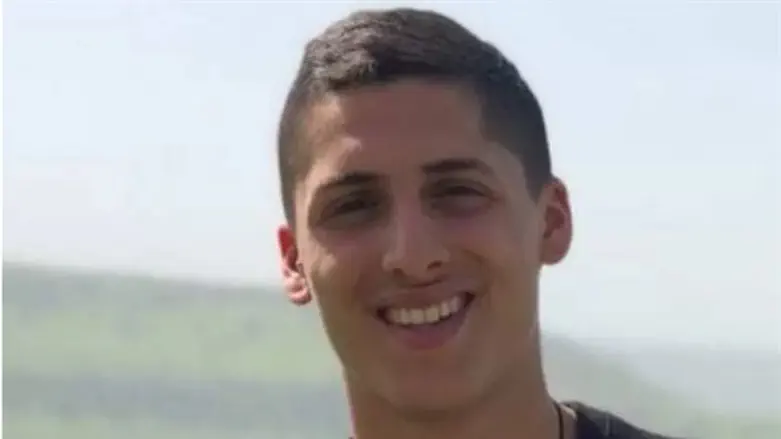 Flood victim Tzur Alfi
Courtesy of the family
Authorities have cleared for publication the identities of the teenagers killed during a flash flood in southern Israel Thursday, after the death toll in the disaster rose to 10 Thursday night.
Twenty-five students from the Bnei Tzion pre-army preparatory academy in Tel Aviv were hiking in the Nahal Tzafit stream west of the Dead Sea in southern Israel Thursday afternoon when the group was hit by a flash flood. The hike was part of a bonding exercise prior to the students' entry into the academy next school year.
Rescue teams managed to save 15 of the teenagers Thursday afternoon, while the remains of nine students who died in the flood were also recovered. A 25th student remained missing until late Thursday night, when police located her body in the Arava region south of the Nahal Tzafit during searches for a lost truck driver.
On Friday morning, authorities disclosed the identities of all ten of the victims of Thursday's flash flood.
All of the victims were 17 to 18 years old, and included nine girls and one boy.
Ella Or, 18, the first victim identified, was a resident of Ma'ale Adumim and had studied at the AMIT Ma'ale Adumim school for girls. Like the other victims, she was to have begun her one-year army preparation at Bnei Tzion this coming school year.
The funeral service for Or is scheduled to begin at 12:00 p.m. Friday afternoon in the Mishor Adumim cemetery.
Seventeen-year-old Tzur Alafi was a senior at Rabin High School in Mazkeret Batya in central Israel. Alafi will be laid to rest in the Mazkeret Batya cemetery at noon on Friday.
Yael Sadan, a resident of Jerusalem, graduated with honors last year from the dance program at the High School for the Arts in Jerusalem. She will be laid to rest at 12:30 Friday afternoon in Har Hamenuchot cemetery in Jerusalem.
Mayan Barhum, also a resident of Jerusalem, was a senior at Boyar High School in Jerusalem.
"It is with great sadness that we announce Mayan's death in the Nahal Tzafit disaster today," Boyar High School administrators said in a statement Thursday night.
"This is a very difficult time for all of us. The school is open to anyone who wants to come and grieve with us together."
The remaining victims identified are Gali Balali from Givatayim near Tel Aviv, Agam Levy from Moshav Herut, Romi Cohen from Moshav Maor, Shani Shamir from Shoham north of Modiin, Ilan Bar Shalom from Rishon Letzion, and Adi Raanan from Mikhmoret, north of Netanya.
On Thursday, police spokeswoman Meirav Lapidot said school administrators okayed the hike, despite flood warnings and instructions by police not to travel in the area.
"The group of youths went on a trip to Nahal Tzafit despite our repeated warnings not to travel in the southern valleys," Lapidot told the Reshet Bet radio station.
"It's a terrible tragedy and it's easy to avoid such disasters. All you have to do is listen to instructions," she added. "We are issuing many warnings all the time, and it is unfortunate that we have reached this situation."
On Friday, police detained three officials from the Bnei Tzion academy for questioning. Two of the three, including the school's headmaster, were later placed under arrest. A third official was released to house arrest.