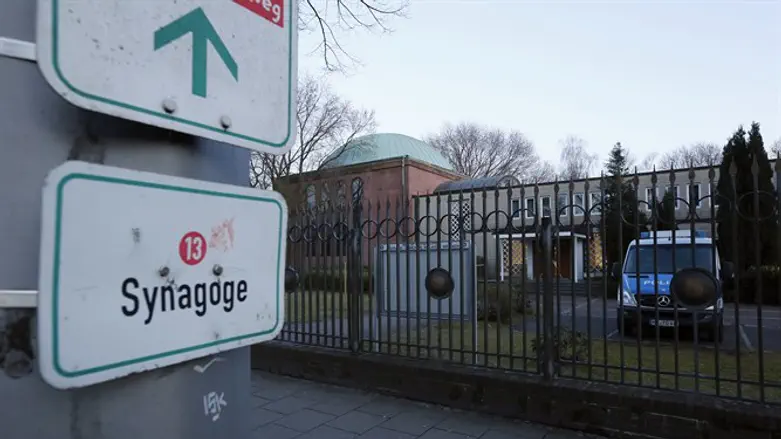 A police car next to a synagogue in the city of Bremen, Germany
Reuters
The President of the Central Council of Jews in Germany, Josef Schuster, recommended that Jews not wear kippahs on the streets of Germany. His comments follow an anti-Semitic attack on an Israeli Arab who wore a kippah in Berlin to see if it was safe for Jews in the German capital last week.
In an interview with Radio Berlin Schuster said that during normal times he supports the wearing of a kippah to "show faith openly and enthusiastically," but in such a sensitive period he recommends that private individuals not wear a skullcap in city streets.
"I recommend wearing a hat or other head covering," Schuster said, stressing that the attack on Jews in Germany was not solely due to anti-Semitism. "It also comes with racism and xenophobia. We must put a stop to these phenomena immediately."
The Jewish community in Berlin decided to hold a special solidarity demonstration in which Jewish and non-Jewish participants would wear a kippah on their heads in response to recent anti-Semitic incidents in the city.
The demonstration will take place on Wednesday near the Jewish community building, with the participation of Mayor Michael Müller and a representative of the government, alongside the rabbi of the Jewish community, Rabbi Yehuda Teichtel, and the president of the community, Dr. Gideon Yaffe.
"The purpose of the rally is to protest against the serious attack and express solidarity with the kippah weaers," sources in the Jewish community say.
"This initiative is very important," says the rabbi of the community, Rabbi Yehuda Teichtal, "because it expresses solidarity with the Jewish people and sends a clear message: here, no hatred will be accepted for the Jews."