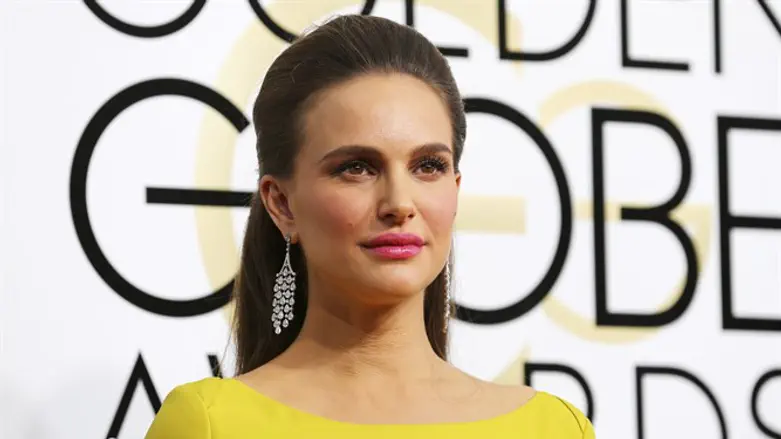 Natalie Portman
Reuters
The leftist organization Peace Now has launched a virtual campaign to express support for Israeli-American actress Natalie Portman, who refused to come to Israel to receive the Genesis Prize from Prime Minister Binyamin Netanyahu.
In a Facebook post entitled "I'm with her", the organization wrote, "An ugly and nationalistic attack by the members of the coalition. We are proudly standing alongside Natalie Portman and millions of Jews in the U.S. who love Israel and express courageous criticism against government policy, out of commitment and true love for Israel."
"Share and help us show the Jewish public in the world that they are not alone and that there is a large public in Israel that shares their concern for the image and future of the State of Israel," said the organization.
The Jerusalem-born director and actor, posting Friday night on Instagram, explained her decision not to accept in person the $2 million Genesis Prize, which calls itself the "Jewish Nobel."
"I chose not to attend because I did not want to appear as endorsing [Binyamin] Netanyahu, who was to be giving a speech at the ceremony," said Portman. "By the same token, I am not part of the BDS movement and do not endorse it."
"Like many Israelis and Jews around the world, I can be critical of the leadership in Israel without wanting to boycott the entire nation. I treasure my Israeli friends and family, Israeli food, books, art, cinema, and dance. Israel was created exactly 70 years ago as a haven for refugees from the Holocaust. But the mistreatment of those suffering from today's atrocities is simply not in line with my Jewish values. Because I care about Israel, I must stand up against violence, corruption, inequality, and abuse of power."
She did not explain what she was referring to by "atrocities."
The Likud party responded to Portman's decision on Saturday night by labelling her a "hypocrite" and added, "Natalie Portman talks about democracy, but she supported the V15 organization, which attempted, via foreign funding, to skew Israel's democratic elections."
"Portman talks about human rights, but she participates in festivals in countries which censor videos and whose human rights record is far behind that of Israel. No excuse will help - Portman simply refuses to accept the decision of Israel's citizens," said the Likud.
On Friday, Likud MK Oren Hazan called on Interior Minister Aryeh Deri (Shas) to strip Portman of her Israeli citizenship.
"[She is] a Jewish Israeli, who on the one hand cynically uses her birthplace to advance her career and on the other is proud of the fact that she managed to avoid enlisting in the IDF. She's an actress, but she is unworthy of any honor in the State of Israel....She...has no real connection to the State."
Public Security Minister Gilad Erdan (Likud), meanwhile, wrote Portman a letter in which he said that she was relying on "false propaganda by Hamas" and invited her for a tour of the Gaza border, where thousands of Palestinian Arabs have been violently rioting in recent weeks and attempting to breach the border fence.
"Hamas uses these 'demonstrations' to carry out terrorist attacks," Erdan wrote, adding, "Hamas cynically exploits women and children as bait and human shields. The goal of this campaign, like other campaigns of the BDS movement, is the destruction of the State of Israel. All those who believe in Israel's right to exist and defend itself in the fight against terror must stand together against this campaign of delegitimization."