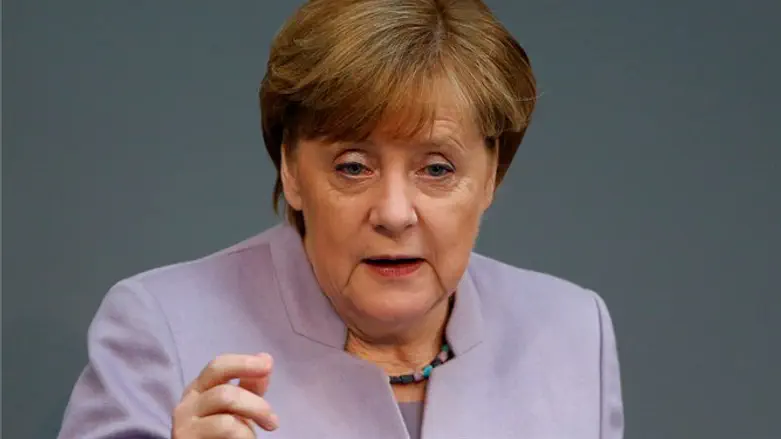 Angela Merkel
Reuters
German Chancellor Angela Merkel condemned the rise of anti-Semitism in Germany, brought on to a large extent by the immigration of large numbers of Arab migrants and refugees from Syria.
Speaking with Israel's Channel 10 on Sunday, Merkel dubbed the wave of anti-Jewish sentiment "another form of anti-Semitism", distinguishing it from the anti-Semitism of fringe nationalist groups.
"We have a new phenomenon, as we have many refugees among whom there are, for example, people of Arab origin who bring another form of anti-Semitism into the country," Merkel said.
Merkel spoke just days after Syrian immigrants assaulted two Israeli men living in Germany who had been wearing kippahs while walking down the street in Berlin.
Police arrested one of the suspects, identified as 19-year-old Syrian emigrant Knaan S., who currently resides in a refugee home in Brandenburg.
The German Chancellor vowed to defend Jews in Germany, adding that her government had appointed a commissioner charged with combatting anti-Semitism.
"The fact that no nursery, no school, no synagogue can be left without police protection dismays us," Merkel said regarding the increase security precautions Jewish institutions in Europe have been forced to take.
Turning to Israel, Merkel told Channel 10 her government remained committed to the two-state solution and establishment of a Palestinian state. Merkel also said Germany would not follow the US in relocating its embassy to Jerusalem at the present time.
"We must work for a two-state solution, and according to that, the status of Jerusalem must be clarified."
Merkel defended the 2015 Joint Comprehensive Plan of Action, better known as the Iran nuclear deal, admitting that the agreement was flawed, but added that the West was better off retaining the JCPOA than withdrawing from it.
"We think it's better to have an agreement, even if it's not perfect, than no agreement," Merkel said.