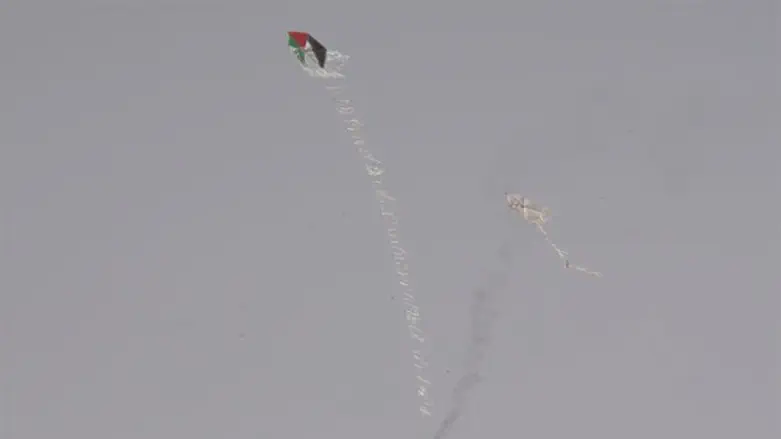 Kite with firebomb
IDF Spokesperson's Unit
Violent riots took place in five locations along Gaza the border on Friday, where some 3,000 Palestinian Arabs tried to approach the security infrastructure, burning tires nearby and trying to fly kites with firebombs attached to them.
The IDF said that a number of kites had crossed into Israeli territory and were extinguished as needed. IDF troops used riot dispersal methods and opened fire in accordance with the rules of engagement.
"The IDF will not allow damage to the security fence and to the infrastructures that protect Israeli citizens and will act against violent rioters and terrorists involved," the statement said.
The health bureau in Gaza said two Arabs were shot dead by Israeli forces.
More than 120 protesters were injured by various means on Friday, the ministry said, according to AFP.
Kites with firebombs
Photo: IDF Spokesperson
Kites with firebombs
Photo: IDF Spokesperson
On Friday morning, before the violent riots began, IDF planes distributed leaflets warning Gazans not to near the Gaza-Israel border, attempt to harm it, or attempt to carry out terror attacks.
The leaflets read, "To the residents of Gaza: You participate in violent disturbances of order. Hamas is using you to carry out terror activities."
"Keep away from those involved in terror and from those who encourage violent disturbance of order. The IDF will take action if there is any attempt to harm obstacles or their contents, or any other IDF equipment."
"Hamas is using you to advance the interests of their own movement. Do not listen to Hamas' orders, which endanger your lives. Things can be different. Your future is in your hands. Signed, the IDF headquarters."
(Arutz Sheva's North American desk is keeping you updated until the start of Shabbat in New York. The time posted automatically on all Arutz Sheva articles, however, is Israeli time.)