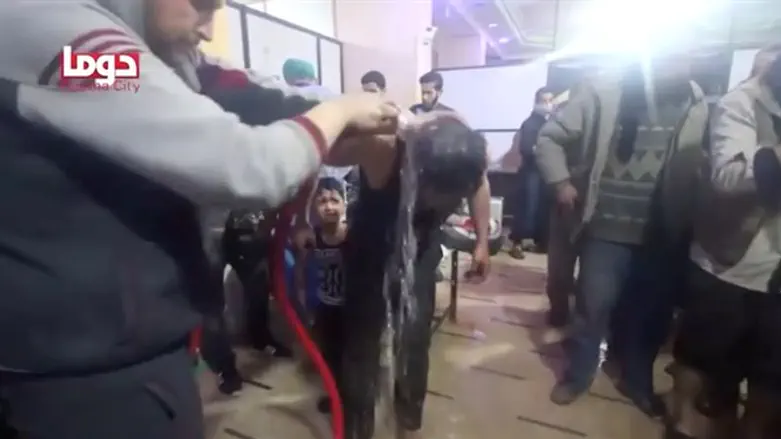 Aftermath of attack in Douma
Reuters
A UN team is discussing security arrangements with Syrian and Russian authorities in Douma to allow experts to investigate an alleged chemical weapons attack, UN security officials said Wednesday, according to AFP.
A team of chemical experts from the Organization for the Prohibition of Chemical Weapons (OPCW), based in The Hague, arrived in Damascus on Saturday, tasked with investigating the site of the April 7 attack in the town of Douma, just east of the capital, which Western powers said involved chlorine and sarin and killed dozens.
On Monday, OPCW head Ahmet Uzumcu said Syrian and Russian officials had prevented the investigators from entering Douma over "pending security issues".
The fact-finding mission was put on hold after the UN security team was fired at during a reconnaissance tour on Tuesday, according to AFP.
In a report sent to the Security Council and obtained by the news agency, the UN department of safety and security (UNDSS) said they were hoping to make arrangements that would allow the team to deploy "at the earliest possible time."
"UNDSS in Damascus is now engaged in further discussions and coordination with representatives of the Syrian Arab Republic and the Russian military police on how to enhance and reinforce security arrangements in specific locations in Douma," said the report sent to council members.
On Tuesday, according to AFP, the UN security team was escorted by Russian military police to two sites in Douma.
At the first site, the UN team and the Russian military escort "encountered a large peaceful demonstration" while at the second location "there was an explosion followed by small-arms fire directed at UNDSS team and the Russian military police," said the report.
The UN team left the site "under the cover and protection of the Russian military police and safely returned to Damascus," it added.
Syria's UN ambassador Bashar Jaafari assured the Security Council on Tuesday that the experts would begin their investigation once they received the all-clear from the UN team.