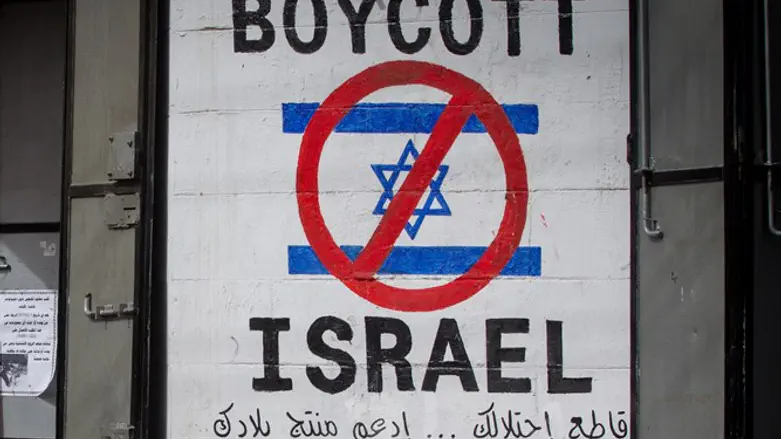 BDS graffiti sign
Photo: Miriam Alster / Flash 90
JTA - Leaders of the student government at George Washington University cancelled a vote on a resolution calling for the school to divest from companies that do business with Israel, citing security concerns.
The vote in the Student Association Senate on the pro-Palestinian resolution was cancelled about ten minutes before the meeting's scheduled start on Monday evening, the student newspaper The Hatchet reported.
The resolution supporting BDS, or the boycott, divestment and sanctions movement against Israel, was supported by the Divest This Time GW, a student-led campaign for Palestinian rights, and was endorsed by seven student organizations: Queer Radicals; GWU Students for Justice in Palestine; GWU Muslim Students' Association; Jewish Voice for Peace GWU; Young Democratic Socialists of America GW; GWU Students for Indigenous and Native American Rights; and the Association of Queer Women and Allies.
The resolution calls on the university to divest its investment from companies: The Boeing Company, Lockheed Martin, Elbit Systems Ltd., Caterpillar Inc., CEMEX, General Electric, Northrop Grumman Corporation, The Raytheon Company, and Motorola Solutions, Inc., which the groups say allegedly contribute to the human rights abuses of Arabs in Judea, Samaria, and Gaza.
It is not known if George Washington University has holdings in any of the companies in its $1.7 billion endowment. University officials have so far declined to provide information about its investment portfolio, according to the student newspaper.
A similar version of the proposal failed by one vote in the student Senate last spring.
Student Senate President Peak Sen Chua said that the meeting had been cancelled after university officials denied repeated requests since the resolution was introduced three weeks ago for the University Police Department officers to be stationed in the meeting room in Funger Hall. Students on both sides of the resolution had expressed concern about security arrangements for the meeting, according to the Hatchet.
Pro-Palestinian student groups found posters deemed threatening to the resolution's supporters around campus on Sunday night, the newspaper reported.
"Despite repeated requests made by the Student Association to the GW Division of Safety and Security, GW Police Department has rejected all requests for posted security in Funger," student senate leaders wrote in a statement. "There are significant security concerns for both students and senators that are going unaddressed by the University."
Following the announcement of the cancellation of the meeting, the school's Students for Justice in Palestine chapter protested outside the student senate office.