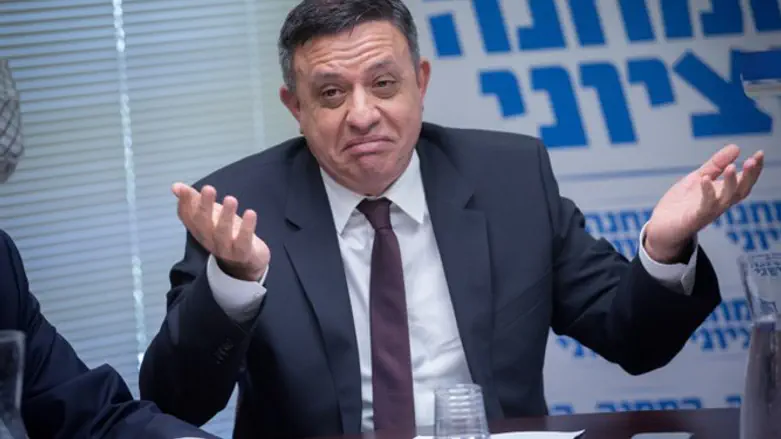 Avi Gabbay
Miriam Alster/FLASH90
The Zionist Union would win just 10 seats if new elections were held today a new poll suggests, the worst showing ever for the Labor-dominated list.
According to the poll, conducted Sunday by Panel Politics on behalf of the Knesset Channel and published on Monday, Prime Minister Binyamin Netanyahu would likely win reelection if Israelis went to the polls, with the Likud projected to win 29 seats – one short of the 30 it won in 2015.
In total, the six parties currently in the coalition government would win 67 seats if new elections were held – one seat more than the 66 seats in the coalition today.
Former Finance Minister Yair Lapid's Yesh Atid party would become the second largest faction in the Knesset if elections were held today, winning a projected 20 seats, up from the 11 it won in 2015. That represents a significant drop, however, from past polling, which showed the party averaging 24-25 seats.
The Zionist Union – an alliance of the left-wing Labor Party and the smaller Hatnua faction led by former Justice Minister Tzipi Livni – would win just 10 seats, less than half of the 24 it won in 2015. Despite the election of former Environmental Protection Minister Avi Gabbay as Zionist Union chairman and efforts by Gabbay to moderate the Labor Party's rhetoric, the party's poll numbers have declined in recent months, falling from the low 20s and high teens last November to an average of 12 seats in March.
Taking the Zionist Union's position as the third largest party is the Jewish Home, which would win 12 seats in new elections according to the poll, up from the 8 it won in 2015.
Defense Minister Avigdor Liberman's Yisrael Beytenu, which won six seats in 2015 but lost one when MK Orly Levy broke out, remains stable at five seats, according to the poll. A new party led by MK Levy would also win five seats, the poll said.
Among the haredi factions, Shas fell from seven seats to five, while the United Torah Judaism party would rise from six seats to seven.
Finance Minister Moshe Kahlon's Kulanu would lose a single seat, falling from 10 mandates to 9 if new elections were held today.
The far-left Meretz party would gain two seats if new elections were held, rising from five to seven. The predominantly Arab Joint List would lose two mandates, falling from 13 to 11.