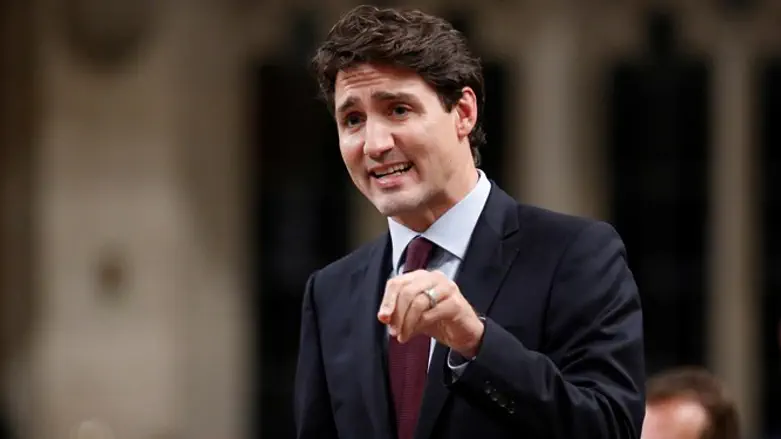 Justin Trudeau
Reuters
Liberal Canadian MP Igra Khalid honored pro-Syrian President Bashar al-Assad and pro-intifada activists, on behalf of Canadian Prime Minister Justin Trudeau, the American Center for Democracy (ACD) reported.
On Saturday, an event held at in Mississauga, Ontario's Capitol Banquette Hall and hosted by the "Palestine House" commemorated the Palestinian Authority's "Land Day."
"Land Day" symbolizes the Palestinian Authority's (PA) determination to "liberate" "Palestine" by wiping Israel off the map.
The event's keynote speaker was PA Archbishop Atallah Hanna, who is known for his support of Assad and the terrorist intifada against Israel. On his Facebook page, Hanna wrote, "We emphasize our solidarity with Syria, its President, government, people and army."
He also wrote that "President Assad is a distinct Arab national person and history will record the name of this great leader who worked to foil the conspiracy against the State of Syria with the Arab Syrian Army and all the sons of the Syrian people… President Assad is not a murderer or a butcher as some say and circulate, but he is a distinct Arab national leader."
Speaking at the event, MP Khalid gave "Palestine House" PR head Amin el-Maoued an award of honor. Calling him "brother Amin," Khalid said el-Maoued "has been a rock and a strong ally for myself, for the Palestinian Canadian community within Mississauga."
"Today on behalf of myself and the Right Honourable Justin Trudeau I want to recognize the great work that brother Amin has done for us and for Mississauga – Erin Mills," Khalid said.
Thanking Khalid, el-Maoued promised to work together with him "for the next federal election in 2019."
In 2012, then-Citizenship and Immigration Minister Jason Kenney de-funded "Palestine House" due to its "pattern of support for extremism."
Speaking in 2012 to The News, Kenney's spokesperson said "Palestine House has in the last few years aligned itself with terrorist causes, including celebrating the release of terrorists and honoring the founder of the Popular Front for the Liberation of Palestine (PFLP), one of the groups that formed the Palestine Liberation Organization and in the 1960s and '70s, was responsible for numerous armed attacks and aircraft hijackings."
However, "Palestine House" spokesperson Samir Jabbour responded to Kenney by claiming that the organization "denounces" "all forms of terrorism and extremism" and claiming that its stance on the Israeli-Arab conflict is "in line with universal values of human rights.