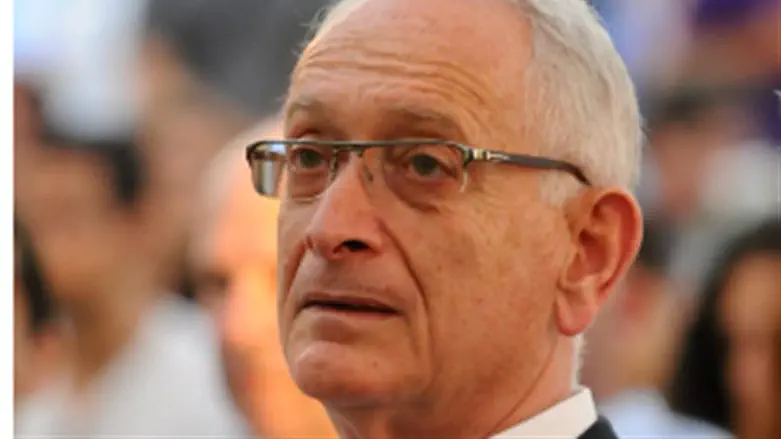 Haaretz publisher Amos Schocken
Flash 90
Defense Minister Avigdor Liberman sharply criticized Haaretz owner and publisher Amos Schocken in light of a tweet that many Israelis considered racist.
On Saturday, Schocken tangled online with an Israeli woman who alleged that his newspaper was anti-Israel. Responding to a tweeter with a Sephardic last name who accused him of destroying Zionism, Schocken shot back that "my family has been at the forefront of Zionism when yours was still climbing trees".
Schocken's tweeted was widely panned by Israelis who viewed it as racist. Defense Minister Avigdor Liberman condemned Schocken, tweeting that "it is time for you to come off your Mount Olympus and stop poisoning Israeli society".
Schocken later clarified that he had not meant for his tweet to be racist. "When I wrote the tweet, I used an expression that, as far as I'm concerned, has no racial or ethnic connotation, but one that applies to all races," said Schocken.
Schocken has come under fire before for making inflammatory remarks. In early April, Interior Security Ministry Gilad Erdan wrote an open letter to Schocken slamming him for his decision to run a column that called Israel's military the "Israeli Massacre Forces".
"The Israel Massacre Forces? Perhaps you will also dedicate space in your newspaper to other blood libels, like the matzot we prepared this year, as we do every year, from the blood of Christians?" wrote Erdan.
"Your father and grandfather would be ashamed to discover that such an anti-Semitic headline had been printed in their newspaper and distributed in English to the entire world. "
In January Schocken defended his newspaper's decision to publish a cartoon portraying Shas leader Aryeh Deri as a suicide bomber due to his role in advancing the "Supermarket Law" forbidding businesses from operating on Shabbat.
The cartoon earned harsh criticism, yet Schocken remained defiant. "Indeed, Deri is a terrorist with an explosive belt who came to sabotage the secular way of life," tweeted Schocken. "I'm sick of these shows of outrage."