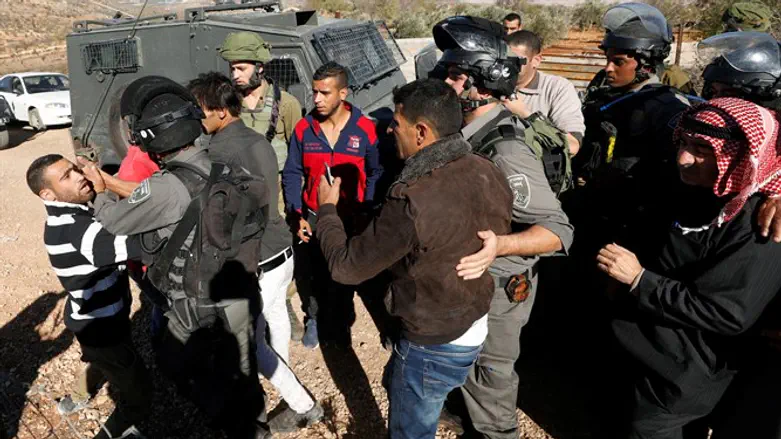 The rioters from village of Qusra
Reuters
One of the attackers of the group on a Bar Mitzvah hike in Samaria has been convicted of stealing the phone of a child on the trip and inserting his Sim card in the phone.

The child's cell phone was stolen along with other items, during the violent attack carried out by Arabs from the village of Qusra last November against a group walking near the community of Migdalim.

The assailant confessed to the act as part of a plea bargain reached between the parties and was convicted of complicity in the theft.

"There is no dispute that the incident during which the cell phone was stolen and held by the defendant was a very serious and difficult incident," the military court judge ruled. "However, in view of the reasons specified by the parties, and especially the fact that there is no evidence of the defendant's presence in that incident, I decided to respect the plea bargain."
The judge sentenced the defendant to 16 days in prison, 12 months conditional sentence and 6 additional months of conditional sentence, a fine of 5,000 shekels and compensation of 3,000 shekels for the victim.

According to attorney Haim Bleicher of the Honenu legal organization, who represented the minor, said, "The verdict is the tip of the iceberg of the severe lynch perpetrated against the group of children. We expect that anyone involved in the event will be punished at least in accordance with the evidence collected about his part in the event. But that is not enough. In all, there were dozens of dangerous rioters who left the village of Qusra under the village's leadership. The State of Israel should find ways to settle accounts with the village and its leadership, most of whose members took part in the lynch attack."
Meanwhile, the weapon of one of the fathers who accompanied the children on the trip and shot at the rioters, was returned, after the case against him was closed for lack of guilt.

Attorney Adi Keidar of Honenu, who represented the father, said: "We reiterate our thanks and appreciation to law enforcement and the State Prosecutor's Office for the swift and just handling of the case. However, we should not forget our harsh criticism, both of the investigations against the Jews and the problems and failures of the investigation into the Arab rioters, which led to great difficulties in filing indictments and offenses, and I hope that those who need to learn the lessons from this affair will do so soon."