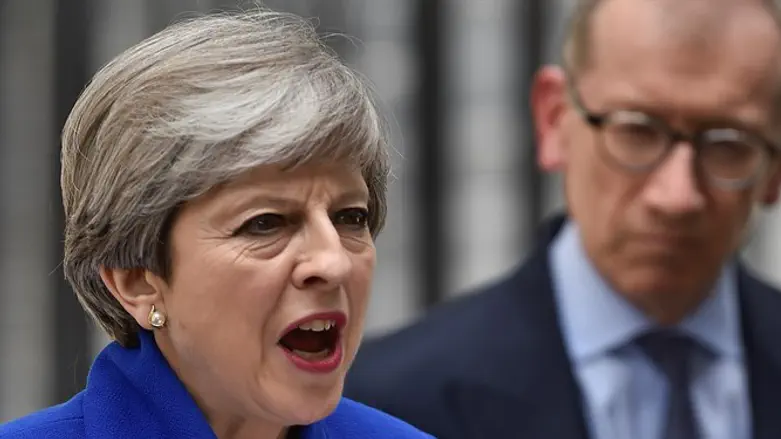 Theresa May
Reuters
British cabinet ministers agreed on Thursday "on the need to take action" in Syria to "deter the further use of chemical weapons", the BBC reported.
At a cabinet meeting lasting more than two hours, ministers agreed it was "highly likely" the Assad regime was responsible for a suspected chemical attack in Douma earlier this week.
They agreed that the use of chemical weapons must not "go unchallenged".
Sources told the BBC that May is prepared to take action against the Assad regime without first seeking Parliamentary consent, but no details of UK involvement in any military action in Syria were mentioned in the Downing Street statement.
On Wednesday it was reported that May had ordered British submarines to move within missile range of Syria in readiness for strikes against the Syrian military.
There have been calls from opposition parties and some Conservative MPs for Parliament to have a vote before a strike.
Labour leader Jeremy Corbyn said, according to the BBC, "More bombing, more killing, more war will not save life. It will just take more lives and spawn the war elsewhere."
May has said "all the indications" are that the Syrian regime of president Bashar Al-Assad, which denies mounting a chemical attack, was responsible for the alleged attack in the formerly rebel-held town of Douma.
During a meeting called on Thursday to discuss the UK response, she described it as "shocking and barbaric" and said it was a "further example of the erosion of international law in relation to the use of chemical weapons, which was deeply concerning to us all."
Downing Street said the cabinet had "agreed it was vital that the use of chemical weapons did not go unchallenged" and "on the need to take action to alleviate humanitarian distress and to deter the further use of chemical weapons by the Assad regime."
"Cabinet agreed the prime minister should continue to work with allies in the United States and France to coordinate an international response," the statement added.