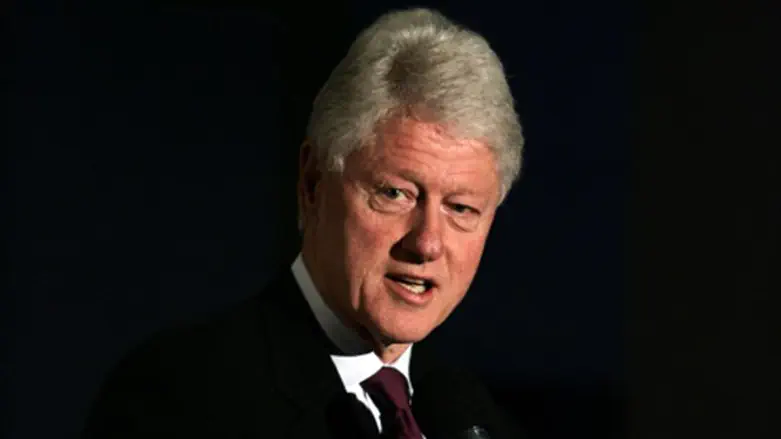 former US president Bill Clinton
Flash 90
Former US President Bill Clinton admitted Tuesday that he intervened in the Israeli elections in 1996 to help then-Prime Minister Shimon Peres defeat rival Binyamin Netanyahu.
"It would be fair to say that I tried to help Peres win the elections, and I tried to help him in such a way that I would not be openly involved," Clinton said in an interview with Israel's Channel 10News.
"I tried to help him, because I thought he was a bigger supporter of the peace process, and I tried to do it in a way that served, in my opinion, Israel's interests, without saying anything about the differences in domestic policy," he added.
Clinton's efforts to help Peres failed as the increase in acts of terrorism against Israeli civilians which followed the signing of the Oslo Accords led Israelis to elect Netanyahu for his first term as Prime Minister.
He described his first meeting with Netanyahu in the White House following the election. "He wanted me to know that he knew that I did not support him, and that he defeated us anyway. He behaved in a manner that is very typical of Bibi, but I understood that he was the leader of the state now, and if I wanted to try to support peace I had to find a way to work with him. I was just embarrassed by the audacity with which he conducted himself, but that's who he is."
Clinton blamed the current Netanyahu government for the failure to reach a peace deal with the Palestinian Authority, despite his own failure to broker a peace deal between former Israeli Prime Miniser Ehud Barak and Palestinian Authority leader Yasser Arafat. Arafat walked away from the generous peace deal offered by Barak and launched the Second Intifada, in which over 1,000 Israelis were murdered in suicide bombings and other terrorist attacks, rather than make peace.
According to Clinton, Israel is not advancing the peace process because it views the Palestinian Authority as a weak party.
"Until Netanyahu returned to serve as prime minister in 2009, the security situation in the West Bank was markedly better due to President Mahmoud Abbas. Now, the coalition that Netanyahu is headeding, I think, believes that the Palestinians are too weak to give them trouble, and it seems that security is working. But I still hope that someday, if they succeed in achieving any decent reconciliation, Israel will thrive even more," said Clinton.