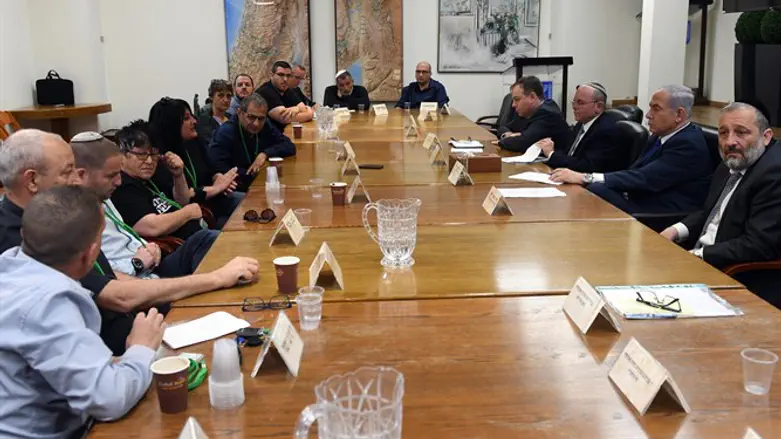 Netanyahu meets representavies of southern Tel Aviv
Haim Tzach/GPO
Prime Minister Binyamin Netanyahu announced the formation of a parliamentary commission of inquiry against the New Israel Fund (NIF) Tuesday evening in light of the organization's exertion of pressure on the governments of Rwanda and Uganda not to abide by agreements with Israel to take in illegal infiltrators.
Prime Minister Netanyahu wrote on his Facebook page: "The main factor that triggered the European pressure on the Rwandan government to withdraw from the agreement to remove the infiltrators from Israel is the New Israel Fund."
"The New Israel Fund is a foreign organization that receives funding from foreign governments and elements hostile to Israel, such as from the fund of George Soros. The ultimate objective of the fund is to erase Israel's Jewish character and turn it into a state of all its citizens, alongside a Palestinian nation-state that is free of Jews on the 1967 lines with Jerusalem as its capital," Netanyahu said.
"For decades the fund has funded anti-Zionist and pro-Palestinian organizations, including those who slander IDF soldiers such as Breaking the Silence and B'Tselem and those who fight for Palestinian terrorists such as Adalah.
"I do not know any Western democracy, especially the United States, which over time was prepared to tolerate hostile activity funded by foreign countries, as has been happening here in Israel with the fund for decades.
"Therefore, I asked coalition chairman Dudi Amsalem to lead the process of establishing a parliamentary committee of inquiry into the activities of the New Israel Fund, which endangers the security and future of the State of Israel as the nation-state of the Jewish people."
The announcement follows the sudden cancellation of an agreement with the United Nations to deport 15,250 illegal infiltrators from Israel while granting visas to the rest of the infiltrators less than a day after the agreement was announced.
The new agreement had been met with staunch opposition from residents of southern Tel Aviv, whose neighborhoods suffered greatly from crimes committed by the influx of illegal infiltrators.
Yesterday, Netanyahu blamed the New Israel Fund for causing the government's previous plan to deport illegal infiltrators to fall through.
"Over the past two years I have been working with Rwanda so that it will serve as a "third country" that would absorb the infiltrators who will be deported without their consent. This is the only legal way for us to remove infiltrators without their consent, after the rest of our moves have been legally disqualified [by the Israeli Supreme Court]. Rwanda agreed to this and began the deportation operation," Netanyahu wrote.
"In recent weeks, as a result of the tremendous pressure placed on Rwanda by the New Israel Fund and elements in the European Union, Rwanda has withdrawn from the agreement and has refused to absorb infiltrators from Israel who were forcibly deported."