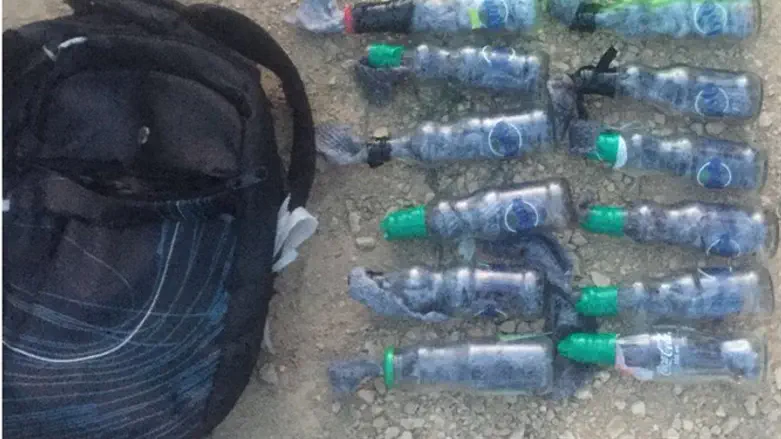 Terrorist's backpack
IDF Spokesperson
Arab terrorists operating in the Hamas-ruled Gaza Strip used riots on the Israel-Gaza frontier last Friday to prepare for attacks on IDF forces patrolling the border, an IDF spokesperson revealed Tuesday.
According to the spokesperson, on Monday, IDF soldiers discovered a backpack left near the security fence separating Israel and Gaza. The bag contained a number of firebombs ready for use against Israeli forces.
IDF spokesman and Brigadier General Ronen Manelis said the discovery proved yet again that last week's mass protests on the Israel-Gaza border were used by Gaza terrorists to carry out attacks on Israeli forces.
On Friday, some 30,000 Arab rioters gathered on the border as part of what organizers dubbed the "March of Return". Rioters hurled firebombs and threw stones at Israeli security forces. Seventeen rioters, including 10 Hamas terrorists, were killed after IDF snipers opened fire on those attacking Israeli soldiers or attempting to scale the security fence into Israel.
The protest kicked off six weeks of demonstrations against the planned relocation of the US embassy to Jerusalem. The demonstrations will culminate in a mass-protest on May 15th, the day after Israel's 70th Independence Day and the opening of the new US embassy.