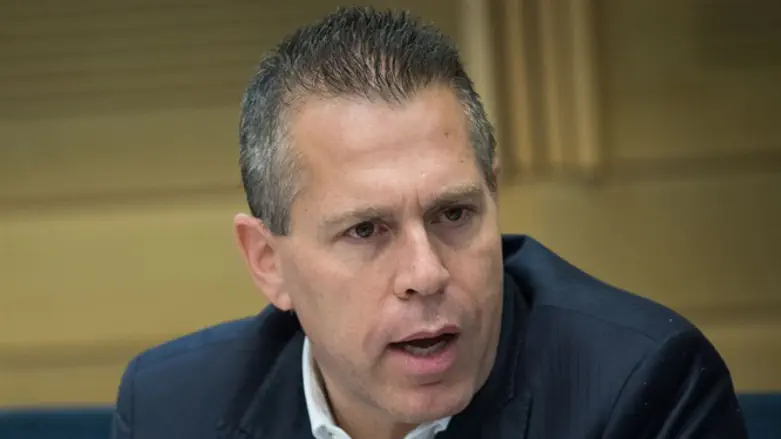 Gilad Erdan
Flash 90
Dear Mr. Amos Schocken,
The truth is that I was debating whether to spoil the wonderful holiday joy which has Israelis hiking in our beautiful country, in order to respond to the abominable words of Gideon Levy (whom I know you identify with), the man who wrote the hit piece against the Israeli pilots who dared to strike the terrorists who fired rockets at the children of the south.
And the truth is that I have no intention of referring to the contents of Levy's article, which totally adopted the narrative of Hamas and [its leader] Haniyeh. To Gideon, I can only wish that he recover [from this illness]. But since there are also editors in Haaretz, I felt that I, as a person who is familiar with Israel's war against BDS, cannot afford to remain silent in the face of the article's title, which will probably be translated into English to the delight of those who wish us ill. Because the title, Mr. Schocken, was given by the editors.
"The Israel Massacre Forces," Mr. Schocken? Are not you ashamed? You know very well that if the Hamas terrorists were trying to hit the Egyptian side of the border (or the border of any other country), countless Hamas operatives would have been struck by massive and indiscriminate shooting, and not by precision sniper fire.
The Israel Massacre Forces? Perhaps you will also dedicate space in your newspaper to other blood libels, like the matzot we prepared this year, as we do every year, from the blood of Christians?
Your father and grandfather would be ashamed to discover that such an anti-Semitic headline had been printed in their newspaper and distributed in English to the entire world. I'm certain they would be.
And finally, Mr. Schocken, I'll tell you why this title saddened me but did not ruin the joy of the holiday for me. The reason is that I turn around and meet the people of Israel and hear their reactions, both from the right and left, and their support for our soldiers and police force is and strong and steadfast.
So we wish a happy holiday to the soldiers and their commanders, and we will say the obvious again: There is no more moral and righteous [army] than you, [the IDF]. Thank you in the name of the people of Israel.
Gilad Erdan serves as Israel's Internal Security Minister