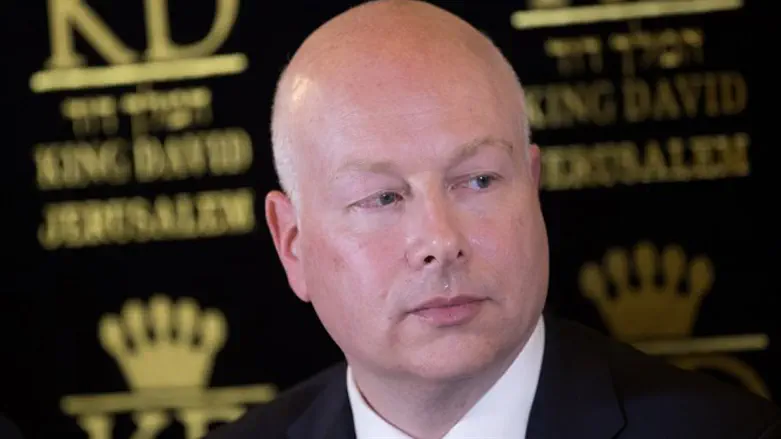 Jason Greenblatt
Yonatan Sindel/Flash 90
Jason Greenblatt, the U.S. special representative for international negotiations, on Thursday night urged Hamas to work to improve the lives of Gazans instead of inciting to violence.
His comments came as Hamas plans a large-scale march, dubbed "the March of the Return", in which Arabs will march en masse towards Gaza's border with Israel.
"Hamas is encouraging a hostile march on the Israel-Gaza border. Hamas should focus on desperately needed improvements to the lives of Palestinians in Gaza instead of inciting violence against Israel that only increases hardship & undermines chances for peace," he tweeted.
Greenblatt has several times criticized Hamas on Twitter in recent months.
Most recently he condemned Hamas for welcoming a terrorist attack in Samaria in which an IDF officer and soldier were murdered.
"Hamas' waste of time, energy and resources is burying Gaza's future, not building the peaceful, prosperous society the Palestinians of Gaza deserve," he wrote.
IDF soldiers are deploying in large numbers for Friday's march.
Hadashot TV reported on Thursday that the soldiers have received clear instructions - firing live ammunition at anyone approaching the security fence, but from the IDF's point of view, the use of live ammunition is not the first option. The soldiers will be permitted to open fire if the Arabs approach the fence in order to cross it and enter Israel.
Meanwhile, the IDF Spokesperson announced on Thursday that a general closure will be imposed on Palestinian Authority-assigned areas of Judea and Samaria and that the crossings to Gaza will be closed for Passover. They will re-open on Saturday, April 7, at midnight.
During the closure, passage will be permitted in humanitarian, medical and other exceptional cases, subject to the approval of the Coordinator of Government Activities in the Territories.