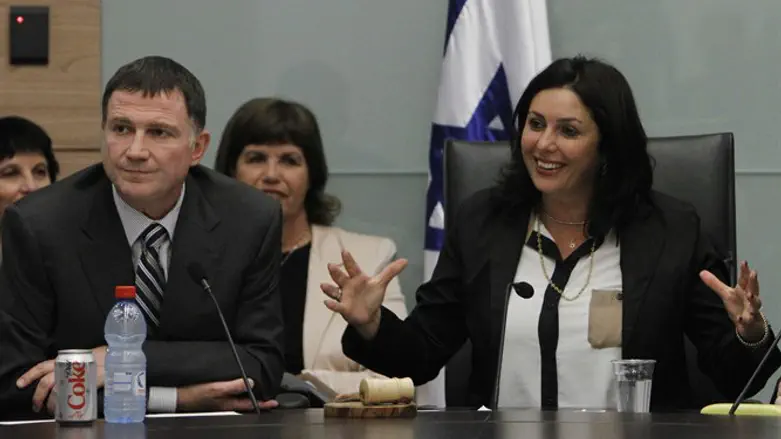 Edelstein, Regev
Flash 90
Culture Minister Miri Regev attacked Knesset Speaker Yuli Edelstein following his letter to Knesset Members in which he explained his intention to boycott the torchlighting ceremony at Israel's 70th Independence Day commencement if the Prime Minister and President are invited to address it.
Regev calls the letter a "semantic sanitizer that doesn't succeed in removing the stain of Edelstein's strange opposition to the President and Prime Minister speaking at Israel's 70th anniversary ceremony."
Edelstein had written: "It pains me that the Culture Minister is trying, for the first time in the history of the State, to harm a ceremony that is a refined and beautiful expression of the people of Israel and of Israeliness. The torchlighting ceremony is one of our beautiful and unique traditions, and whoever harms it would sabotage one of the most beautiful and exciting Israeli values we have."
In response to the charges Regev notes, "The torchlighting ceremony is managed and organized by the Government of Israel, and the fact that the government has honored the Knesset Speaker over the years does not make the ceremony one of the Knesset's ceremonies. The same government, through the Ministerial Committee on Symbols and Ceremonies on which I serve, decided this year when we mark 70 years of independence, that the State will be honored with speeches by the President, the Prime Minister, the Knesset Speaker, and the leader of the highest-ranking state among those attending.
"In contrast to what was written, there will be no substantive change and the national character of the ceremony will not be harmed, on the contrary - a ceremony in which these dignitaries participate will strengthen its stately and national character. Regarding what fundamental change does Edelstein refer in his letter? Will the Prime Minister's speech then harm the ceremony's official character? Every year the Prime Minister's blessing is broadcast on video. Apparently the Knesset speaker is irritated by the Prime Minister's physical presence at the ceremony and not his speech.
"I hear many citizens in the past few days; no one can understand Edelstein's opposition, behavior, and language laundering that claim if the President and Prime Minister arrive it damages the State and the ceremony's unity."