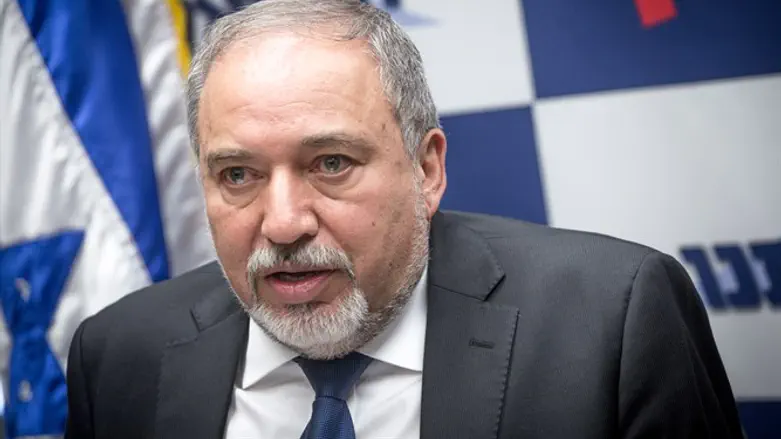 Avigdor Liberman
Miriam Alster/Flash 90
Defense Minister Avigdor Liberman responded Wednesday afternoon to reports that the new Palestinian Authority budget not only continues the PA's policy of paying salaries to terrorists and to the families of terrorists, but went so far as to resume the direct payments to the terrorists.
"Abu Mazen [ PA chairman Mahmoud Abbas], the supporter of terrorism, took off his mask and removed his gloves, and we will act to make a quick decision to offset the salaries that Abbas is transferring to terrorists and stop this absurdity," Lieberman wrote on his Twitter account.
According to the Defense Ministry, the PA paid imprisoned and released terrorists more than NIS 550 million in 2017. Families of suicide bombers and wounded terrorists received about NIS 687 million from the PA coffers. Approximately 7.47% of the PA budget is dedicated to paying salaries to terrorist attackers.
For the last four years, the PA has funded the Commission of Prisoners, which pays the salaries to terrorist prisoners, indirectly through the Palestine Liberation Organization, to counter international criticism over the PA using foreign aid to fund terrorist activity. The decision to resume direct funding of payments to terrorists represents a brazen refusal to consider ending the PA's 'pay to slay' policies.
The PA budget was released as the US Congress passed the Taylor Force Act, which cuts off nearly all US aid to the Palestinian Authority until it ceases its payments to terrorists.
According to the Taylor Force Act, within 30 days the U.S. State Department must certify to Congress whether or not the PA and PLO have stopped the payments to terrorists and their families and repealed the pay-to-slay laws. No later than 45 days after enactment (i.e. 15 days after the above certification), the State Department must report to Congress an explanation of why State was unable to certify PA/PLO compliance, if that is the case, plus the total amount of funds to be withheld.