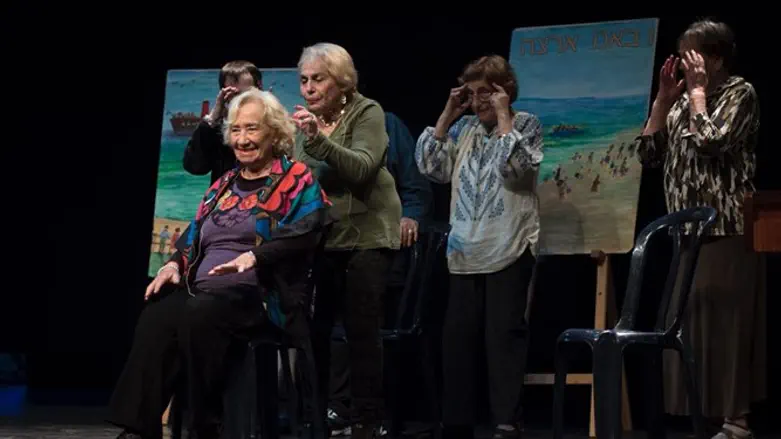 The show must go on
IDF Spokesman
For a long time, soldiers from the IDF Information Security Branch of the Intelligence Division have been meeting with Holocaust survivors, members of the Amcha club.
Last Thursday they experienced another significant event when they arrived at the Palmach House in Tel Aviv and watched a show called We Have Come to Israel, on which 13 Holocaust survivors have been working over the last year.
"The play," says Major H., the head of the Information Security Branch, "tells about difficulties the survivors had to deal with when they immigrated to Israel."
"At first I had a hard time with the stage," admits one of the actresses, "but since it gave me personal confidence - I'll perform before anyone who wants to see us. I think our performing before the soldiers is very important. I have grandchildren who are soldiers and it's important that they see us, form an impression of us, and see that we've succeeded in overcoming things that happened to us in the past."
Mali, another actress in the play, emphasizes: "We didn't really want to talk about the Holocaust; we preferred to deal with difficulties of our immigration to Israel, like the teasing we received from schoolchildren who didn't accept us. The theater club is a tool to express ourselves, and with a little spontaneity we were able to find a way to bring back memories and ease dilemmas and emotional burdens from our hearts.
"It's very difficult to make this subject accessible to people who didn't grow up in a home with Holocaust survivors," says Major H., who introduced the IDF unit to the organization. She stresses that it is especially important to connect the younger generation with the past. "Amcha enables us to commemorate the Holocaust more clearly."
It is also important to her that joint activities with Holocaust survivors be done out of reciprocity: "When the soldiers meet with the survivors, we talk and play around with them. A connection is created and they're much more attentive. We say Holocaust survivors didn't come to Israel as unfortunates, they came here to build the country and contribute to its establishment."
Major H's special relationship with the organization began 11 years ago: "I was a student at Tel Aviv University and began volunteering with Amcha. This year I taught computers to two Holocaust survivors; I met them once a week. Later, one of them wrote her story as a computer document, using the skills we learned together.
"After I volunteered that year, I maintained contact with the club. When I returned to the IDF I made sure to initiate joint activities between my unit and the organization."
The Information Security Branch head addressed the audience at the event: "About 350 commanders and soldiers came to watch the show in order to listen and to ask, out of a sense of commitment to remember and not to forget. The effort involved in producing the event is clear to us, and we appreciate and value your actions," she said.
"I think," concludes Major H., "that when soldiers deal with the memory of the Holocaust, they understand that the army isn't a luxury - it's really a national mission."