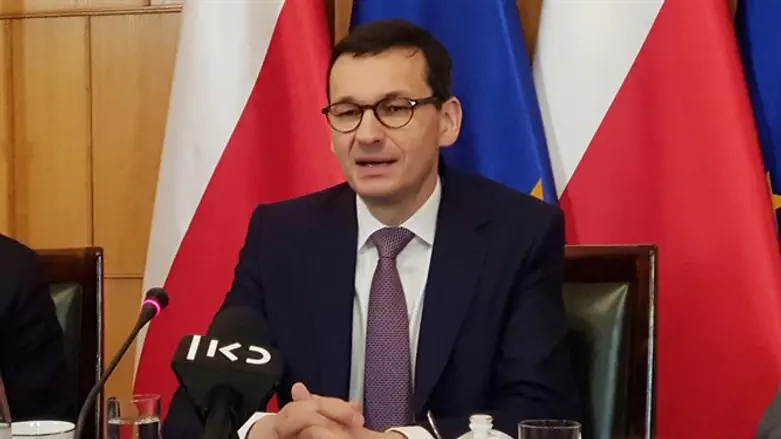 Polish Prime Minister Mateusz Morawiecki
Yoni Kempinski
U.S. Senator Ted Cruz (R-TX) on Monday joined Sens. Marco Rubio (R-FL) and Tammy Baldwin (D-WI), as part of a total of 59 Senate colleagues, in sending a letter to Polish Prime Minster Mateusz Morawiecki regarding Poland's proposed Holocaust-Era property restitution legislation.
The legislation, which was first published last October, would exclude most Holocaust survivors and their families.
The bill would require that claimants be citizens of Poland today. In addition, it would require that they had been residents in Poland at the time their property was nationalized by the Communist regime. These provisions would exclude the vast majority of Holocaust survivors, and their families, who left Poland during the Holocaust or in its aftermath and now live outside Poland.
"We are writing to express concern about legislation regarding Holocaust Era property re that has been proposed by the Polish Ministry of Justice. This draft legislation would adversely affect Holocaust victims and their heirs and is therefore of urgent importance to many of our constituents, millions of Americans, and Holocaust survivors around the world," the senators wrote Morawiecki.
"In 2009, Poland, along with the United States, Israel, and 45 other countries, affirmed the Terezin Declaration on Holocaust Era Assets and Related Issues. Among other guidelines, the Declaration urges participating states to pass national legislation that facilitates restitution 'in a fair, comprehensive and nondiscriminatory manner.' We have been disappointed that Poland remains the only major European country that has not passed a national, comprehensive law for the restitution of, or compensation for, private property, but are hopeful that this will soon happen," they added.
"The draft legislation, published on October 20, 2017, would eliminate the possibility of the return of actual property, provide only limited compensation, prevent compensation for ownership of companies that were destroyed, and bar claims by foreign citizens who did not benefit from eligible postwar treaties, including the one between Poland and the United States," the American lawmakers pointed out.
"As strong supporters of the critical and mutually beneficial U.S.-Polish relationship, we believe our alliance is rooted in our shared democratic ideals, including a respect for the rule of law and its ability to ensure justice for victims. We urge you to work with the Polish Parliament to pass fair and just restitution legislation that would both fully realize the goals of the Terezin Declaration and further strengthen the bond between our countries."
Said Cruz in a statement, "After more than 70 years since one of the darkest chapters in human history, the world must continue to right the terrible and evil injustices that occurred during the Holocaust."
"Unfortunately," he continued, "Poland is considering a draft Holocaust-Era property restitution bill that fails to rectify one of the greatest historic injustices perpetrated by the Nazis: the systematic and widespread looting and stealing of private property. The Nazis destroyed 90 percent of Poland's Jewish community, and approximately half of the six million Jews murdered during the Holocaust were Polish. It is therefore outrageous Poland has proposed legislation that would exclude the majority of Polish Holocaust survivors and their heirs, including almost all American survivors and their family members, from being eligible to recover property that was rightfully theirs. Poland should be facilitating a way to return property stolen during the Holocaust to the rightful owners and their descendants, not keeping it from them."
"I am proud to join Sens. Rubio and Baldwin in standing up for victims of the Holocaust and their families, and call on Poland to work with the United States and the World Jewish Restitution Organization to ensure that any restitution legislation allows survivors and their families to receive the justice they deserve," concluded Cruz.
Gideon Taylor, Chair of Operations at the World Jewish Restitution Organization, and Leah Mueller, Senior Adult Services Program Manager and Legislative Issues Liaison at the Jewish Family Service of Houston, applauded Sen. Cruz for his leadership on this issue.
"Senator Cruz has been a champion of the rights of Holocaust victims and their families and we are most grateful for his tremendous support for this critical effort to seek justice for Holocaust survivors," Taylor said.
"As a resident of Texas who works with and cares for Holocaust survivors, I want to thank Senator Cruz for standing up for them," Mueller said.