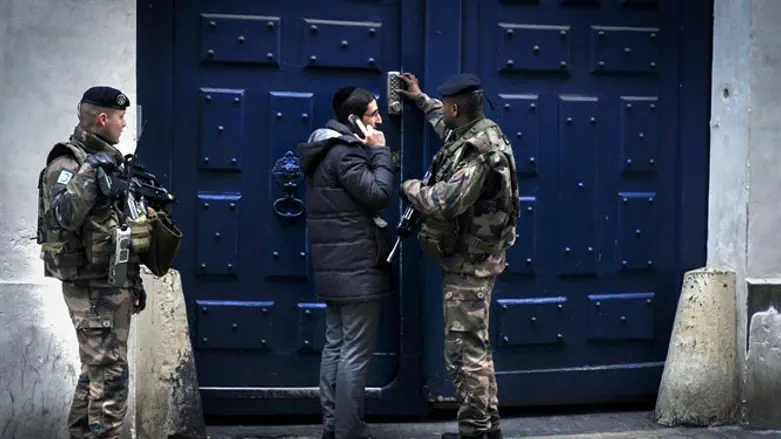 French soldiers guard the entrance to a Paris synagogue
Photo: Serge Attal / Flash 90
Prosecutors investigating the slaying of a Holocaust survivor in Paris said the two suspects in custody targeted her because she was Jewish.
The development in the investigation of the March 23 slaying of Mirelle Kanol came with the arrest of two men on Monday, Le Figaro reported, citing a police source.
"The supposed or actual belonging of the victim to a religion was a grounds" for the attack, the source told Le Figaro, in addition to her being "vulnerable."
One of the suspects in custody, a 29-year-old man, was a neighbor of Kanol and knew her well, Le Figaro reported.
In addition, Kanol's son told the French news agency AFP that one of the suspects was a regular visitor of his mother whom she treated "like a son." The son said the suspect had visited her that day.
The prosecutor's office reportedly has asked that the suspects remain in preventative custody. They will face possible charges of "murder related to the victim's religion, real or imagined," as well as aggravated robbery and destruction of property, AFP reported, citing judicial sources.
On Sunday, a spokesperson for SPCJ, the official monitor and security unit of the French Jewish community, told the 7sur7 news website that a preliminary examination of the crime "does not reveal an anti-Semitic characteristic, but this possibility has not been discounted as police investigate further."
Kanol escaped the Aerodromes d'Hiver roundup of Jews by French police for their deportation to death camps and murder by the Nazis.
French Foreign Minister Jean-Yves Le Drian, who is in Israel on an official visit, said Monday afternoon following a meeting in Jerusalem with Prime Minister Binyamin Netanyahu that France needs to "continue fighting against anti-Semitism."
"I had a very moving and difficult moment when I had just concluded my visit to Yad Vashem. I heard about the outrageous murder of Mirelle Kanol – a Holocaust survivor – in Paris," Le Drian said. "We cannot yet say if the motive for the murder was anti-Semitism but it is reasonable to assume, it will not be surprising and, therefore, this only strengthens the fact that this struggle has not ended, and that we will need to continue fighting against anti-Semitism."
According to the National Bureau for Vigilance Against Anti-Semitism, or BNVCA, the octogenarian's body was set on fire Friday night. Her charred body also had at least 11 stab wounds.
A forensic examination of the apartment showed that an arsonist started a fire in at least five distinct areas of that space, the report also said.
"The barbarity of this murder sends us back to that of Sarah Halimi just one year ago," Francis Kalifat, president of the CRIF umbrella of French Jewish communities, said in a statement Monday. CRIF is organizing a memorial march in Kanol's memory Tuesday.
Prosecutors say Halimi, a 66-year-old Jewish teacher and physician, was murdered by her Muslim neighbor in April partly in connection with her Jewish identity.