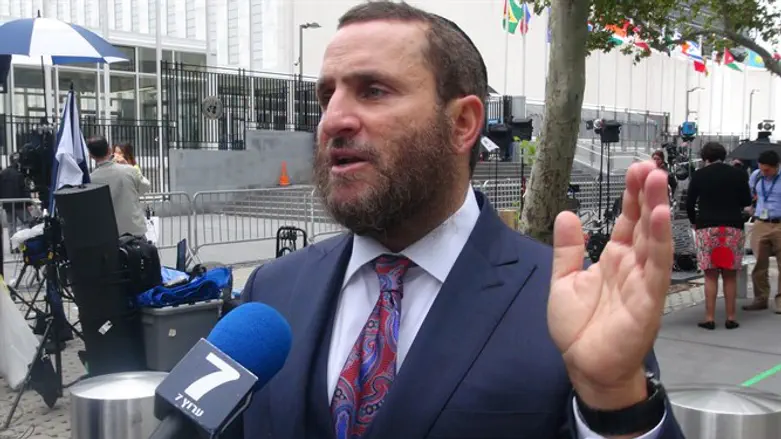 Rabbi Shmuley Boteach
Eliran Aharon
Let's get the obvious stuff out of the way. Of course, we Jews believe in free speech and of course, we believe that Israel should be self-critical. One of the biggest issues we have with Israel's Arab neighbors is that they are not self-critical and not democratic. So, there is nothing wrong with Jews criticizing the Jewish state.
That being said, when a renowned Jewish opinion-maker takes to the pages of The New York Times to offer highly unfair and poorly argued criticism of Israel, it demands a response.
I was astonished to see that Ron Lauder, a life-long Zionist, defender of Israel and longtime leader of the World Jewish Congress, would choose the occasion of Israel's 70th anniversary to launch a blisteringly unmerited and unreasonable critique of the Jewish state in The New York Times. The fact that The Times would publish it was less surprising given, that one way to get an op-ed accepted is by attacking Israel and there is no telling how many others have tried and mostly failed to document Israel's virtues on its pages. Still, it saddened me to see a leader of Lauder's stature assail Israel and make such shockingly irresponsible statements about Israeli policy.
While many critics might claim that attacking Israel publicly is their only way of getting out their message, this argument does not apply to Lauder. As a wealthy philanthropist and leader of a global Jewish agency, Lauder has direct access to the highest levels of Israel's government. He could walk into the Prime Minister's Office and deliver the same message, but he either is frustrated by the weakness of his unconvincing arguments or the fact that Israel's democratically elected government does not need his advice. Someone of his status is used to getting his way, and not having to listen to constituents, so perhaps a public tantrum is his response to being told "no."
By taking his criticism public, Lauder appears to have adopted the J Street attitude of holding Israel's people in contempt, and not accepting their democratic judgment to elect leaders that reflect their views. Hopefully, he has not tilted so far toward J Street that he will start advocating that the United States pressure Israel to adopt his preferred positions.
It is simply contemptible for someone, no matter their stature, to tell Israelis from the comfort of their New York penthouse what is in their best interest. It is only Israelis who serve in the military, like my son and daughter, and Israelis who send their children to do the same, who have the right to decide matters involving their peace and security. Israelis have repeatedly had to fight and die for their freedom and wish nothing more than to live in peace with their neighbors. Their desire for peace is so great they have made great sacrifices and taken enormous risks by evacuating Sinai, the Gaza Strip, and much of the West Bank, often with disastrous and unfortunate results. The gamble on Sinai, once thought to have paid off by producing peace with Egypt, has today produced an ISIS state on Israel's border that Egypt cannot control. The concessions to the Palestinians have only resulted in greater terror and insecurity.
Who is Lauder to lecture Israelis on the wisdom of further concessions?
Lauder has bought into the false idea that the only possibility for peace is a two-state solution and that Israeli policies "threaten to derail this opportunity." He acknowledges "Palestinian incitement and intransigence are destructive" as if these are trivial matters when they are at the core of the conflict. He should know better than to repeat the nonsense about settlements obstructing peace given that the Palestinians were not interested in peace when there was not a single Jew living in the West Bank. Israel's government has every right to decide who can live where and whether it is in the nation's best interest to annex territory that even the Palestinians have agreed would be part of Israel should a peace agreement ever be signed.
Lauder is also angry about Israel's policies related to religion. Diaspora Jews have the right to decide how to worship, but they do not have a say in how religion is practiced in Israel. Freedom of religion is guaranteed in Israel and it is up to Israelis to determine how they will exercise that right. As a democracy, Israelis can also vote to change policies they do not like. Lauder's argument that Israel is becoming a theocracy would be news to the hundreds of thousands of people who march in Tel Aviv's gay pride parade or to Israel's secular majority. Two weeks ago, I hosted Caitlyn Jenner at our annual World Values Network gala where she praised Israel for being ahead of the United States in allowing openly transgender soldiers to serve in the military.
That does not mean that Israelis are all perfectly comfortable with the power of Orthodox parties. Indeed, many are uncomfortable. But the voters for those parties are also part of the electorate and America also debates religiously influenced issues like gay marriage, abortion, contraception, and public prayer all the time. Even as many Israelis bristle at what they see is the increased power of the religious parties, they still choose – when they practice Judaism – to do so via Orthodox custom.
It is also shameful for Lauder to blame "assimilation, alienation and a severe erosion of the global Jewish community's affinity for the Jewish homeland" on Israel. Jews in the Diaspora are not abandoning their faith because of any Israeli policies. They are doing so for several totally unrelated reasons and the answer is to educate and embrace the millennials he is worried about and not expect them to cling to Judaism if Israel suddenly stops building settlements or opens an egalitarian prayer space at the Western Wall.
Assimilation and intermarriage rates in the United States are very high. They are being reversed by outstanding organizations like Chabad who employ the late Lubavitcher rebbe's vision of spreading a positive Jewish message rather than Lauder's method of attacking the Jewish state.
Young Jews are not abandoning Israel. Yes, they may question Israeli policies and, yes, they are unwilling to accept the traditional way of teaching Israel's history through rose-colored glasses. The answer again is not to demand that Israel change policies in hopes of soothing the angst of young Diaspora Jews. Lauder and others should be investing more in educating them about the real Israel rather than the one they may encounter on campus via leftist academics who had little sympathy for Israel even when left-leaning prime ministers like Shimon Peres were in power.
I still remember hosting Peres in his post-prime ministerial years at Cambridge University in the U.K. where a student group tried to have him arrested for war crimes in Lebanon.
Jewish groups on campus must teach students that love of Israel rests on thousands of years of Jewish connection to our ancient homeland and deep respect for the country, a great bastion of human rights, as Jenner proclaimed from our stage to the world's media.
Lauder says, "The leadership of the Jewish world always honors the choices made by the Israeli voter and acts in concert with Israel's democratically elected government," and yet he has decided that "loyalty requires a friend to speak out and express an inconvenient truth."
No, Ron, loyalty requires a friend to express his views fairly and respectfully, even if they involve disagreement, and then accept the results of the democratic process. If you don't like the decision, you can make aliyah, automatically become a citizen, and use that same democratic process to try to change the policies you don't like. You are likely to find that most Israelis disagree with your increasing pessimism about Israel and that this is an "inconvenient truth" that they would respectfully offer you.
Either way, Mr. Lauder, we're all grateful for your lifelong dedication to Jewish life, especially in Eastern Europe where you pioneered so much outstanding work. That's the work you should be continuing rather than penning unreasonable harangues against America's foremost ally that continues to function as a thriving democracy in the sea of Middle East tyranny.
Shmuley Boteach is a rabbi, best-selling author, TV host and public speaker.
The above piece is courtesy of Israel Hayom.